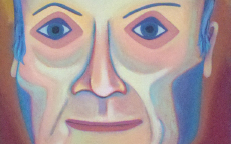 The sixth annual Staff Art Show is April 2-13 in the Nebraska Union Rotunda gallery. The exhibition features the work of 16 UNL employees. Gallery hours are 9 a.m. to 5 p.m. weekdays.

Participating employees include Tarik Abdel-Monem, Leona Barratt, Valerie Bender, Eileen Bergt, Cindia Carlson-Tsuda, Rebecca Carr, Karin Dalziel, Julie Dexter, Rachel Garver, Michael Jackson, Sushma Jolly, Deanna Larson, Lacey Losh, Natalya Nersesian, Karina Nersesova and Jody Wood.

An opening reception is 5 to 7 p.m., April 2.
More details at: http://go.unl.edu/9kk