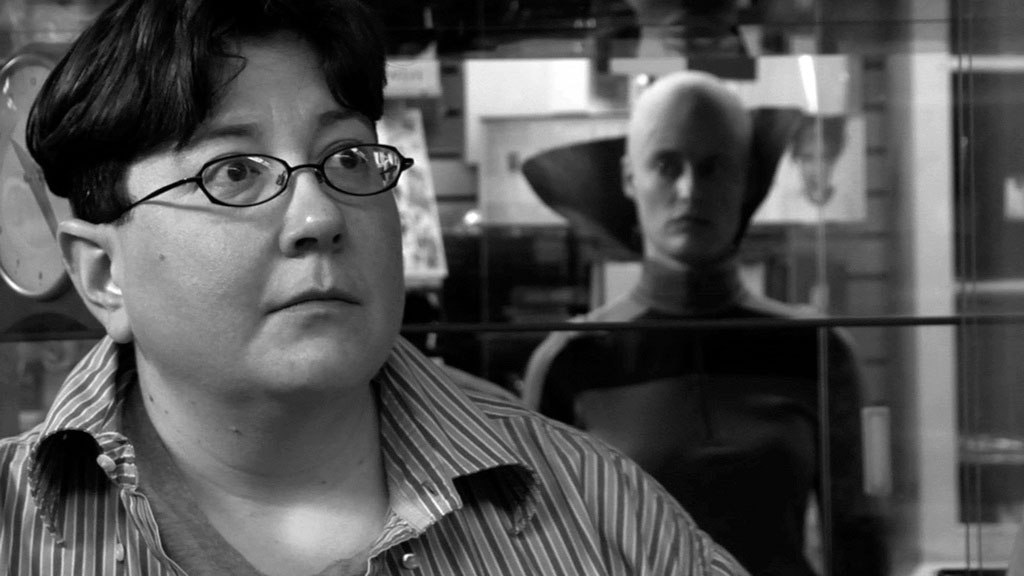 Two films, a sci-fi romantic of black-and-white B movies and a documentary about a musician and his wife, open today at the Mary Riepma Ross Media Arts Center. Both "Codependent Lesbian Space Alien Seeks Same" and "The Ballad of Genesis and Lady Jaye" are unrated and play through April 5.

"Codependent Lesbian Space Alien Seeks Same" tracks the adventures, misadventures and experiences of three aliens from the planet Zots. The trio was sent to Earth on a mission to rid themselves of romantic emotions, considered toxic to their planet's atmosphere.

The aliens are told to have their hearts broken on Earth, where such heartbreak is considered a given. Two of the aliens, Zylar (promiscuous and sassy) and Barr (codependent and clutchy) fall into an unfortunate romance with each other. However, Zoinx, the third, meets Jane, an Earthling of mild manners who lives an uneventful life and works in a stationery store. Unaware that the sudden object of her affection is an alien (despite her bald head and monotone speech), Jane falls hard for Zoinx. The feeling is mutual.

"The Ballad of Genesis and Lady Jaye" is a documentary about musician Genesis P-Orridge and his wife Lady Jaye. P-Orridge has been one of the most innovative and influential figures in music and fine art for the last 30 years. A link between the pre- and post-punk eras, he is the founder of the legendary groups COUM Transmissions, Throbbing Gristle, and Psychic TV, all of which merged performance art with rock music.

Defying artistic boundaries, Genesis has redefined his art as a challenge to the limits of biology. In 2000, Genesis began a series of sex reassignment surgeries in order to more closely resemble his love, Lady Jaye. It was the ultimate act of devotion, and Genesis's most risky, ambitious, and subversive performance to date: he became a she in a triumphant act of artistic self-expression.

The film is a love story, and a portrait of two lives that illustrate the transformative powers of both love and art.

For more information, including show times and ticket prices, go to http://www.theross.org or call 402-472-5353.