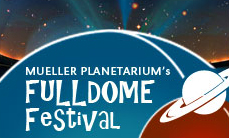 Mueller Planetarium in the University of Nebraska State Museum will present a festival of five fulldome shows, starting at 11 a.m., March 31.

The ticket price to see three or more shows on the schedule this day is $8 for adults and $7 for children 18 and under. Friends of the Museum pay $7. Tickets for single shows will also be available at the regular ticket price of $3 adults and $2.50 children. Tickets will be sold at the museum's front desk only on the day of the festival.

The schedule for March 31: "Black Holes," 11 a.m.; "Sea Monsters," noon; "Natural Selection," 1 p.m.; "Light Years from Andromeda," 2 p.m.; and "Forces of Nature," 3 p.m.

For more information and previews, go to http://www.spacelaser.com.