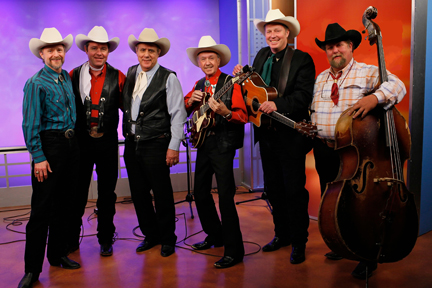 Lovers of classic country western tunes can celebrate the Lied Center debut of Sons of the Pioneers at 7:30 p.m. April 7. Sons of the Pioneers perform unabashed love songs to the West that will sweep listeners out of their chairs and into the saddles of the cowboys who tamed the plains decades ago.

The Sons of the Pioneers burst onto the Western music scene in 1934 with five original members, including song and film star Roy Rogers. More than 75 years later, the legendary ensemble remains the world's premier cowboy singing group honoring the West, its awesome landscape, people, culture and the American cowboy.

The group is known for its superb harmonies and brilliant arrangements that have delighted generations. Enjoy trademark harmonies of "Tumbling Tumbleweeds" and the haunting lyrics of "Ghost Riders in the Sky," among many other classics.

This group has been inducted into the Western Music Association, National Cowboy and Singing Cowboy Halls of Fame. Sons of the Pioneers is one of the longest continuous performing groups of all time, with more than 3,000 compositions to their credit. The group has been honored with a star on the Hollywood Walk of Fame and two Grammy Hall of Fame Awards, and was designated a "National Treasure" by the Smithsonian Institution.

Tickets are $24 and $19 and may be purchased online at http://www.liedcenter.org, by calling 402-472-4747 or in person at the Lied Center, 301 N. 12th St.

Carol Turner, radio personality on country music station KX 96.9, will give a pre-talk for the performance at 7 p.m. in the Lied Center's Steinhart Room.