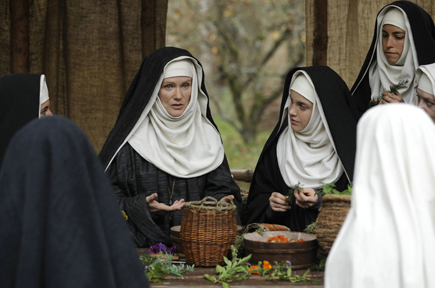 The Mary Riepma Ross Media Arts Center will host a movie talk about the film "Vision: From the Life of Hildegard Von Bingen" at 2:30 p.m., March 13. The talk follows a 12:30 p.m. screening.

Both "Vision" and French director Claire Denis' film "White Material" open today at the Ross.

Hildegard von Bingen, a famed 12th-century Benedictine nun, was a woman ahead of her time. In "Vision," actors Margarethe von Trotta and Barbara Sukowa bring the story this multi-faceted Christian mystic, composer, philosopher, playwright, poet, naturalist, scientist, physician, herbalist and ecological activist to life.

Sukowa portrays von Bingen's fierce determination to expand the responsibilities of women within the Benedictine order. Von Bingen did this even as she fended off outrage from others in the church over the visions she claimed to receive from God.

The movie talk will be led by H. Peter Reinkordt, a German professor from Doane College.

Admission to the movie talk is free. Regular admission prices apply to the screening prior to the talk.

Also opening today is "White Material," a thrilling account of a woman driven to the edge. Isabelle Huppert plays as Maria Vial, a fearless French woman attempting to run her family's coffee plantation in an unnamed African country. A civil conflict results in the family being declared outlaws. In an attempt to save her family and livelihood, Vial risks everything in a fight with rebel forces vying for the control of local power.

"White Material" is an official selection of the Venice, Toronto and New York film festivals.

Both films show through March 17.

For more information on movies at the Ross, click the link below.
More details at: http://www.theross.org