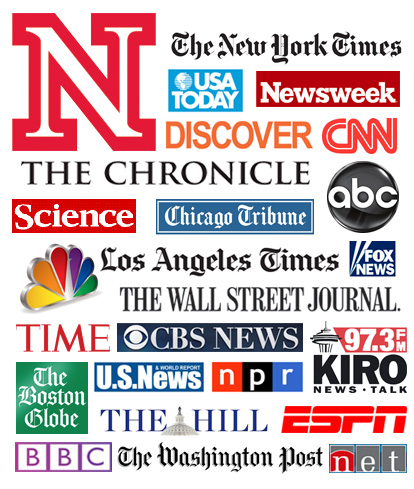 National media outlets featured and cited UNL sources on a number of topics in the past month. Appearances included:

Eric Berger, law, was quoted by numerous media outlets on June 26, the day the Supreme Court struck down key provisions of the Defense of Marriage Act. He was quoted by The Associated Press for a story that appeared in dozens of media outlets around the country.
http://go.unl.edu/nc7

Sadid Carillo, a senior accounting major, was quoted in a June 19 article in US News & World Report about budgeting for unexpected personal expenses in college.
http://go.unl.edu/mp5

Wheeler Winston Dixon, film studies, was quoted in WIRED on June 18 about the greatest film trailers of all time. On June 28, Mental Floss featured his discovery of F. Scott Fitzgerald's notes in 1985.
http://go.unl.edu/e27
http://go.unl.edu/ztw

Jason Head, Earth and atmospheric sciences and the NU State Museum, had his research related to the discovery of a giant, prehistoric plant-eating lizard featured prominently across the globe in early June. Appearances included CNN.com, NBC News, the Washington Post, the BBC, the Daily Mail (UK), the Telegraph (UK), the Los Angeles Times, USA TODAY, Popular Science, UPI and several dozens of other media outlets.
http://go.unl.edu/4s6
http://go.unl.edu/93c
http://go.unl.edu/isi
http://go.unl.edu/t59
http://go.unl.edu/3jc
http://go.unl.edu/62f
http://go.unl.edu/r2d

UNL's role in the International Thespian Festival was highlighted in an Associated Press story from June 25.
http://go.unl.edu/g99

Gary Kebbel, journalism, was quoted in a June 20 story at Journalism.co.uk on the opportunities and challenges of drone journalism.
http://go.unl.edu/rnq

Richard Moberly, law, penned a June 11 op-ed for the New York Times about the balancing between secrecy and threats to national security in the wake of the Edward Snowden-NSA leak case. Moberly also was quoted by several local, regional and national news outlets on the case, including ABC News.
http://go.unl.edu/prq
http://go.unl.edu/9o4

David Moshman, educational psychology, wrote a June 28 op-ed for The Huffington Post about political diversity on campus and the notion of "Affirmative Action" on campus for Republicans.
http://go.unl.edu/22w

Climatologists from the National Drought Mitigation Center were quoted regularly in June about drought conditions across the United States. Appearances included NPR, Bloomberg News and The Huffington Post. On June 20, the U.S. Drought Monitor was the subject of a feature story in EdTech Magazine about how higher education and government team up to tackle "Big Data."
http://go.unl.edu/kxi
http://go.unl.edu/uov
http://go.unl.edu/x9d
http://go.unl.edu/ryo

Steven Schwartz, biological sciences, had his research into the mating habits of dark fishing spiders featured in several national media outlets in mid-June, including WIRED, National Geographic, LiveScience and Jezebel.
http://go.unl.edu/egh
http://go.unl.edu/rwj
http://go.unl.edu/9ni
http://go.unl.edu/6ir

Jay Storz, biology, had his study of hemoglobin of deer mice as related to specific variations of mutations featured June 13 in Nature.
http://go.unl.edu/dko

This is a monthly column featuring UNL faculty, administrators and staff in the national news. National media often work with University Communications to identify and connect with UNL sources for the purpose of including the university's research, expertise and programming in published or broadcasted work. 





Faculty, administration, student and staff appearances in the national media are logged at http://newsroom.unl.edu/inthenews/





If you have additions to this list or suggestions for national news stories, contact Steve Smith at ssmith13@unl.edu or 402-472-4226.
More details at: http://go.unl.edu/8t9