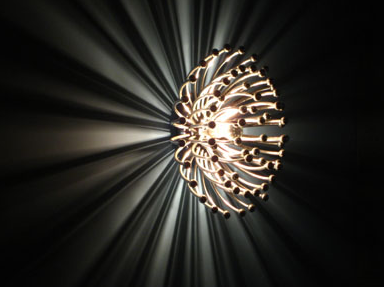 A new, UNL-led approach to lighting education has earned a $50,000 Twentieth Anniversary Grant from the Nuckolls Fund for Lighting Education.

The award will power "Lighting Across the Design Curriculum," a multi-discipline, multi-university approach to teaching students about lighting. Katherine Ankerson, associate dean of the College of Architecture, accepted the grant during the annual Nuckolls Fund awards luncheon in May. Also a professor of interior design, Ankerson represented the team that will implement the new curriculum.

"The program consists of a series of seven interactive teaching modules applicable to architecture, interior design and landscape architecture," said Ankerson. "We believe that lighting is critical to all aspects of design, and should be introduced early in the design education curriculum and carried throughout the educational process."

In addition to UNL, the lighting curriculum will be integrated into programs at Kansas State University, Miami University of Ohio and the University of Texas at Austin.

The multi-disciplinary project includes assistance from UNL professors in architecture, interior design and architectural engineering.

UNL faculty joining Ankerson on the project are Betsy Gabb, professor of interior design; Timothy Hemsath, assistant professor of architecture; Lindsey Ellsworth-Bahe, assistant professor of interior design; Nathan Krug, associate professor of architecture; and Clarence Waters, professor of architectural engineering.

When completed, the interactive teaching modules will be used by an estimated 1,600 students at the four universities.

Named for lighting designer and educator James Nuckolls, the Nuckolls Fund for Lighting Education has awarded $695,000 to institutions and individuals to support and encourage lighting education in North America.
More details at: http://go.unl.edu/ezp