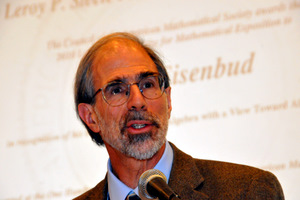 David Eisenbud, of the University of California, Berkeley, will present his lecture "Plato's Cave" at 4 p.m., April 1 in 115 Avery Hall. Eisenbud is one of the world's foremost commutative algebraists. A preceding reception will be at 3:15 p.m. in 348 Avery Hall.

To read more about Eisenbud, go to http://www.math.unl.edu/events/rowlee.

The Howard Rowlee Lecture is an annual event that seeks to bring internationally acclaimed scholars in the mathematical sciences to UNL to promote public understanding of mathematical research and to stimulate the environment for mathematics research at UNL. The Howard Rowlee Lecture Series is sponsored by the Howard E. Rowlee Jr. Fund, UNL Research Council, UNL Department of Mathematics and the National Science Foundation.
More details at: http://go.unl.edu/poy