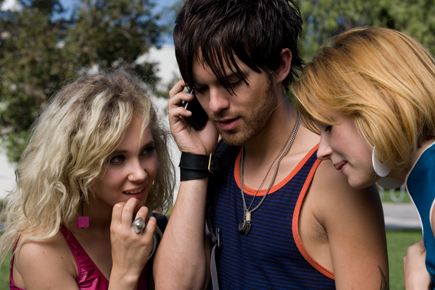 The films "Poetry" and "Kaboom" open April 1 at the Mary Riepma Ross Media Arts Center.

"Poetry" is an emotional character study directed by Lee Chang-Dong. Mija (played by veteran actress Yun Jung-hee) is a beautiful woman in her 60s who moves gracefully through life, contemplating a trivial daily routine that is ill-suited to her refined persona. She takes care of her ungrateful grandson, Wook (Lee David), and makes a living by cleaning house for an elderly man. Mija enrolls in a poetry class at the local cultural center and begins a personal quest to find the perfect words to describe her feelings. However, she's plagued by the onset of Alzheimer's, and struggles with new vocabulary and the challenges of the creative process.
Mija's word is turned upside down by the discovery of a monstrous crime, it's her unique poetry that allows her to defy shame and distance herself from a painful proximity to violence.

"Kaboom" is a hyper-stylized horror comedy thriller directed by Gregg Araki. The film tells the story of Smith (Thomas Dekker), an ambisexual 18-year-old college freshman who stumbles upon a conspiracy in an idyllic Southern California seaside town.

Both films play through April 7 at the Ross. For more information, including show times and ticket prices, go to http://www.theross.org or call (402) 472-5353.
More details at: http://www.theross.org.