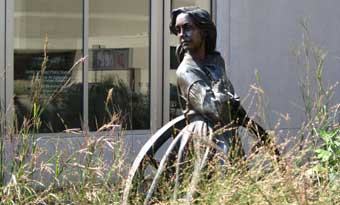 The Great Plains Art Museum will exhibit artworks created by students in the Lincoln Public Schools Visual Arts Mentoring Program. The exhibition runs April 1-17 at the museum, with a public reception 5-7:30 p.m. April 1.

"This is the Visual Arts Mentoring Program's 13th year and our eighth year partnering with the Great Plains Art Museum for an exhibition venue," said Tina Spomer, program facilitator. "It is very powerful for the young artists to create and direct their own work knowing it will hang in the professional atmosphere of the Great Plains Art Museum."

The program invites applications from elementary school children gifted in the visual arts. Students are then selected and partnered with an artist mentor who works with the student two hours per week.

"The Great Plains Art Museum is extremely happy to be a small part of encouraging these talented young people," said Amber Mohr, Great Plains Art Museum curator. "Not many artists already have a group exhibition on their resumes before graduating from the eighth grade."