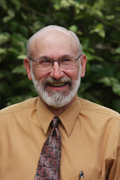 Dennis Garrity, director general of the World Agroforestry Centre and UNL graduate, will lead a seminar on "Creating an Evergreen Agriculture in the Tropics," at 10:30 a.m., today in the East Union.

Garrity is a systems agronomist and research leader, whose career has focused on development of small-scale farming systems in the tropics. He is the CEO of the World Agroforestry Center, the global leader in advancing the science and practice of producing trees on farms. Its vision is to foster a smallholder tree revolution through increased use of trees in agricultural landscapes to help overcome hunger and poverty and create a sustainable environment.

He is involved in a global effort to reconsider the future of agriculture in the 21st Century by examining unconventional ways of creating more productive and environmentally sound farming systems. In this new agriculture, much of the tropical world's annual food crop production would occur under a canopy of trees, using practices that are based on sound science and demonstrated farmer experience.

He has championed the concept of evergreen agriculture, where trees are integrated into annual crop farming. He has worked to stimulate broader awareness that evergreen agriculture has already been successfully implemented on millions of farms in Africa. His efforts have prompted vigorous interest by the development community. He and his colleagues are supporting the development of evergreen agriculture programs in 21 countries in Africa, as well as in India and several other Asian countries.

Garrity has a bachelor's degree in agriculture from Ohio State University, a Master of Science degree in agronomy from the University of the Philippines at Los Banos, and a doctorate in crop physiology from UNL.

The seminar is sponsored by the Department of Agronomy and Horticulture.