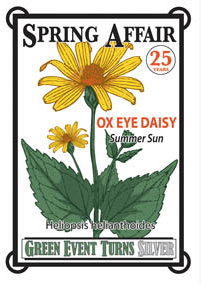 Spring Affair, the Midwest's largest plant sale, celebrates its 25th anniversary, 9 a.m. to 4 p.m., April 23. The sale is at the Lancaster Event Center, 84th Street and Havelock Avenue, Pavilion 1.

Sponsored by the Nebraska Statewide Arboretum, the sale offers more than 900 plant varieties to area gardeners. The plants - ranging from perennials, herbs and native plants to vines, trees and shrubs - are provided by Bluebird Nursery in Clarkson.

Admission is free. The sale also includes plant talks and related vendors. The plant talks will be held through the day. Presenters include Mark Canney on "Shades of Silver;" Luann Finke on "Sunny Silver Solutions;" and Stacy Adams on caring for plants. Additional 20-minute presentations on various plant groups will be offered.

A Spring Affair preview party is April 22. Registration is required. For more information, or to register, call Kit Keller at (402) 489-2238.

Proceeds from Spring Affair are used to sustain the Nebraska Statewide Arboretum's mission.

For more information click the link below or call (402) 472-2971.
More details at: http://go.unl.edu/ivw