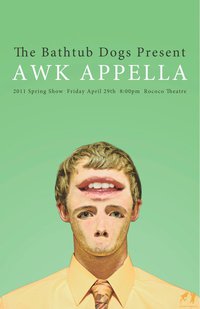 The Bathtub Dogs, an all-male a cappella group of UNL students, will hold their annual spring show at 8 p.m., April 29 at the Rococo Theater, 128 N. 13th St.

Tickets are $5 for students and $8 general admission. Tickets are available at the door or the Student Organization Financial Services office, 222 Nebraska Union.

The Bathtub Dogs were founded in 2002. The group has recorded three albums, the most recent, "Studio 354," was released in 2008.

Current members of the Bathtub Dogs, year in school and major are: Doug Dietze, senior, electrical engineering; Eric Bloomquist, junior marketing and music; Josh Huls, sophomore, music education; Jack Christie, sophomore, advertising; Jordan Broekhuis, junior, piano performance; Landon Stahmer, sophomore, advertising; Brady Foreman, sophomore, undeclared; Chris Hanson, senior, biosystems engineering; Michael Kappen, junior, finance and trumpet performance; Brandon Aksamit, senior, broadcasting; Brian Emmerich, junior, engineering; Trent Buglewicz, freshman, music education; Doug Flegle, senior, advertising; Nate Gillen, junior, business administration; Nick Jester, sophomore, vocal performance; Mark Koenig, junior, English; Adam Salistean, freshman, actuarial science; and Alex Schumacher, freshman, music education.
More details at: http://go.unl.edu/3v7