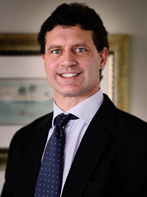 Economics is hosting a seminar led by Mark Partridge, professor at Ohio State University, at noon, April 29 at the Wick Alumni Center.

Partridge, a professor of agricultural, environmental and development economics, will present his paper, "Dwindling U.S. Internal Migration: Evidence of Spatial Equilibrium." Partridge is also co-editor of the Journal of Regional Science and is the chair in rural-urban policy at OSU.

The seminar is free and open to the public. For more information or to register, contact Barb Keating at bkeating2@unl.edu or (402) 472-6349.