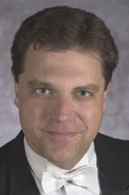 The UNL Symphony Orchestra presents a concert, "Symphonic Fantasies," at 7:30 p.m., today in Kimball Recital Hall. Tickets, available at the door, are $5 general admission and $3 for students/senior citizens.

The concert will feature Berlioz's "Symphonie Fantastique" and Vaughan Williams' "Fantasia on a Theme of Thomas Tallis."

Tyler White, professor of music, is director of the UNL Symphony Orchestra.