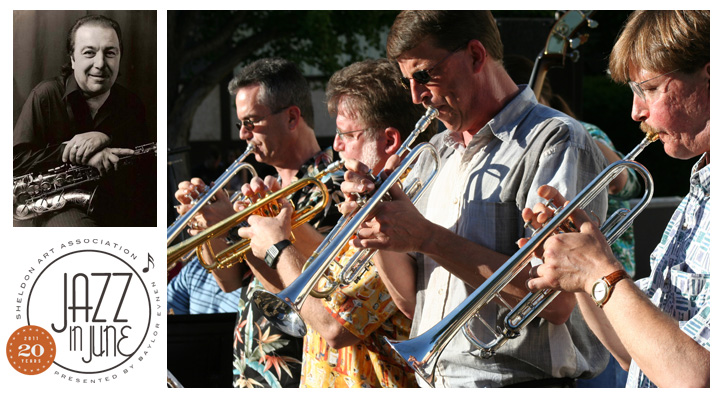 The Nebraska Jazz Orchestra with guest Greg Abate opens the Tuesday evening Jazz in June lineup at 7 p.m. today.

The NJO was founded in 1975 and is one of the Midwest's premier big bands. The ensemble's concerts feature a variety of traditional big band compositions by jazz masters such as Woody Herman, Duke Ellington and Count Basie, reflecting the rich legacies of the Mississippi Basin territory bands. The ensemble also adds to this legacy by performing new compositions and arrangements regularly.

NJO has produced seven volumes of recordings featuring more than 60 original compositions and arrangements written by the ensemble's members, alumni and friends. NJO regularly features locally and nationally renowned jazz artists. Clark Terry, Karrin Allyson, Marvin Stamm, Freddie Hubbard, Laurie Frink, Marilyn Maye, Kahil El'Zabar, Victor Lewis, Jay McShann, Dave Brown, Bill Watrous, Don Menza, John LaBarbera, Claude "Fiddler" Williams, Benny Powell, Dave Stryker and Bobby Watson are among the many fine jazz artists the Nebraska Jazz Orchestra has hosted for Nebraska audiences. For more information, visit http://www.artsincorporated.org/njo.

Special guest Greg Abate is a saxophonist, flutist and composer who spends 150 days a year touring the globe. In the mid '70s, after finishing a four-year program at Berklee College Of Music, Abate played lead alto for the Ray Charles Orchestra for two years. In 1978, he formed his group, Channel One, a favorite in the New England area, and from there had the opportunity to play tenor sax with the revived Artie Shaw Orchestra under leadership of Dick Johnson from 1986 to 1987. Following this experience, Abate ventured out as post-hard bop soloist playing jazz festivals, jazz societies and jazz clubs throughout the United States, Canada and abroad, including most of Europe, the United Kingdom, Moscow and the Republic of Georgia.

The concerts begin at 7 p.m. and will draw thousands of revelers to sit under the trees on the plaza west of the Sheldon 12th and R streets.

Concertgoers are encouraged to bring blankets or lawn chairs for a relaxing and enjoyable evening surrounded by jazz, outdoor sculpture and sweet summer skies.

Jazz in June concerts are free of charge to concertgoers, but they are not free from expense. This year, Jazz in June will rely on donations from audience members in order to make ends meet. Concertgoers are asked to make a donation of $10 per family, or whatever they can afford, to continue the series.

Activities abound before each concert. Kids are encouraged to take part in the weekly Super Sleuth hunts inside the museum, which begin each week at 6 p.m. New this year, kids can meet Josh the Otter by the fountains in the Sheldon Museum of Art Sculpture garden. Sponsored by Sheldon and the Joshua Collingsworth Memorial Foundation, Josh the Otter helps teach kids about the importance of water safety. A short program will begin in Sheldon's Abbott Auditorium at 6 p.m. and then Josh and the kids will go outside. The Joshua Collingsworth Memorial Foundation will also be doing weekly giveaways at the concerts, including coloring books, stickers and stuffed Josh the Otter toys.

The warm June weather offers the perfect backdrop to tour sites in the UNL Botanical Gardens and Arboretum. UNL's Landscape Services and Facilities Management and Planning departments run the annual tours beginning at 6 p.m. at Sheldon's east entrance.
More details at: http://go.unl.edu/qyo