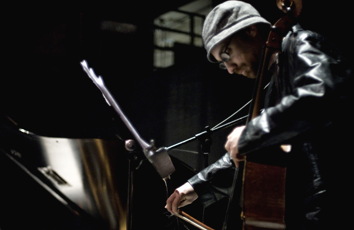 The Meadowlark Music Festival expands its June 11 concert to include an afternoon of music and family-friendly activities at East Campus, capped by an evening concert by Grammy nominee Dave Eggar and Deoro on the green northeast of the East Union.

The day begins with afternoon events and dinner, with many departments and units on East Campus opening doors for free family-friendly events with musicians performing at buildings and sites across campus. Participants can pick up a passport and map at any of the locations and have the passport stamped by visiting each site. Free ice cream with a special Meadowlark-themed flavor will be provided 6:30 to 7:30 p.m. by the UNL Dairy Store to those who receives three or more stamps. A grill-out near the concert site is 5:30 to 7:30 p.m. with grilled burgers and hot dogs for purchase.

At 7:30 p.m., Dave Eggar and his band, Deoro, will take the stage with a fun and family-friendly take on classical chamber music: Xtreme Classical Crossover.
The performance will include Eggar, Charlie Palmer, Gregor Huebner, Ariel dela Portilla, Dina Fanai and Klaus Mueller. Free parking will be available in all East Campus lots. Since Holdrege Street will be under construction and closed at the time of the event, use 33rd or Huntington streets to enter East Campus.

Family tickets are $30 or individual tickets are $10. Purchase tickets by calling (402) 477-2522 or purchase online at http://www.meadowlarkmusicfestival.com. These free family events are offered across campus from 4-6 p.m.:
- See the slithering snakes and wonderful water experiments at Hardin Hall.

- Be a "Dentist for a Day" and operate a dental drill at the College of Dentistry.

- Get a free toothbrush and floss at the Dental College.

- Search through the cool music archives at C.Y Thompson Library.

- Walk through a fabulous fiber installation in the Robert Hillestad Textiles Gallery.

- Take a once-in-a-lifetime chance to go behind the scenes into the vault of historic clothing and costumes.

- Browse quilts by talented Nebraska quilt makers at the International Quilt Study Center and Museum.

- Get up close with all kinds of tractors and tour the Tractor Test Lab.

- Watch an experiment showing how to make gummy worms at the Food Science and Technology building.

- Meet Milie the millipede and hold a hissing cockroach.

- Visit the Backyard Farmer garden.

- See maps and more at the "Maps & More" store.

- Watch out for the Cat in the Hat who will be wandering East Campus.
More details at: http://go.unl.edu/idn