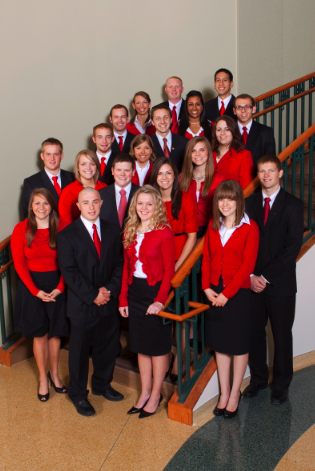 Twenty senior students have been selected as Homecoming royalty finalists at UNL.

The Homecoming king and queen will be elected by a vote of the student body Sept. 23 and crowned Sept. 25 at halftime of the Nebraska vs. South Dakota State football game at Memorial Stadium. Voting for king and queen will be conducted 9 a.m. to 7 p.m. Sept. 23 at the Nebraska Union and online.

Students nominated for Homecoming royalty are listed below by hometown, with academic major(s) and parents' names listed.

NEBRASKA

Aurora: Jamie Dick, marketing, Ed and Jan Dick.

Elkhorn: Hilary Riggle, middle level education, Ron and Kim Riggle.

Grand Island: Caroline Swift, Spanish and pre-medicine, David and Catherine Swift.

Lincoln: Matthew Boring, music, Neil and Sue Boring; Angela Finn, nutrition science, Dave and Kate Finn; David Lopez, psychology and business administration, Carlos and Paula Lopez; Meghan Rihanek, marketing, Philip and Gema Rihanek.

Milford: Cori Curtis, international studies and political science, Tim Curtis and the late 9Sharon Curtis.

Omaha: Sara Buelt, middle grades education, Joseph and Lisa Buelt; Justin Solomon, family sciences and human resources, Dennis Solomon and Sandra Roush.

Tekamah: Elizabeth Goll, architecture, Chuck and Nora Goll.

ELSEWHERE

Anchorage, Alaska: Drew Schulz, economics, Kenneth and Heidi Schulz.

Brookings, S.D.: Elizabeth Pflueger, elementary education, Burton and Cheryl Pflueger.

Exeter, N.H.: Sammy Nabulsi, political science, Suhail and Karimah Nabulsi.

Lee's Summit, Mo.: Justin Shilhanek, psychology and Spanish, Damon and Linda Shilhanek.

North Mankato, Minn.: Jack Ehrke, economics and Spanish, Chris and Mary Lee Ehrke.

Olathe, Kan.: Divya Gopal, sociology and classical languages (emphasis in Latin), Thay and Shobana Gopal.

Overland Park, Kan.: Lindsey Macy, speech-language pathology and audiology, Roland and Cathleen Macy.

Parker, Colo.: Ian Anderson, marketing, Larry and Kathy Anderson.

Worthington, Minn.: Quentin Dudley, biological systems engineering, Steven and Lori Dudley.