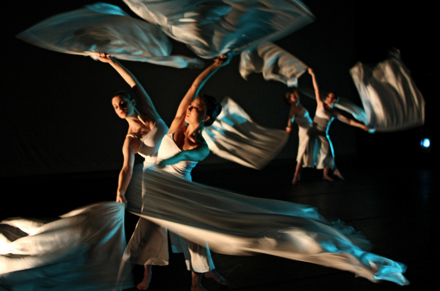 Experimental dance, circus arts and mesmerizing fabric-and-light spectacles will be featured at the Lied Center for Performing Arts when Jody Sperling's Time Lapse Dance performs on the main stage at 7:30 p.m. Sept. 23.

The performance is presented by the Interdisciplinary Arts Symposium in the Hixson-Lied College of Fine and Performing Arts, in collaboration with the Lied Center.

Time Lapse Dance was founded in 2000 by choreographer Jody Sperling and fuses many types of dance, theatre and entertainment as she re-imagines the swirling, sculptural style of modern-dance pioneer Loie Fuller. Fuller was an American-born choreographer who used her experience in vaudeville, burlesque and circus acts to create new work from the late 1800s up to her death in 1928. Her work received great acclaim in Europe, particularly in Paris.

Tickets for Time Lapse Dance are $25 for adults and $12.50 for students/youth.

For tickets and information, go online to http://www.liedcenter.org or call 472-4747.

For more information about Time Lapse Dance, go online to http://www.timelapsedance.com.