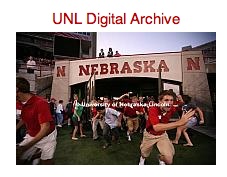 UNL has a collection of photos that are now available on a protected website for use on the UNLcms. Learn about Gallery and how it can help you feature great photos online. The session, "Using Web-worthy Photos," is part of the content convergence presentations, 1-3 p.m., Oct. 26 in the Nebraska Union.

No need to sign up. Locations in the Union posted as "Content Convergence Conference."

This session offered as part of a series of Content Convergence Conferences is designed for UNL staff or faculty who are charged with creation and upkeep of department and college websites. New tools are now available that will make that task easier. Thinking through the best way to integrate information, photos, video and other content is critical in communicating effectively with students, faculty, business audiences, visitors seeking information and academic community members from other universities.

This year all UNL communicators, interested faculty and staff, as well as interested students, are invited to a series of sessions on making the most of your website.

Wednesday's session will includ:
- What makes a great photo?
- Breaking down photos: Elements needed in photos to make them successful
- Specific tips on how to shoot different types of photos: portraits, action
- Shooting and cropping for use on the Web
- Saving your photos for the Web and print
- The UNL Digital Photo Archive

Bring photos for critique including some helpful "what could've been done differently."

Participants will earn free photography services from UNL Publications and Photography.