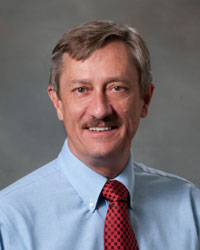 At noon, Oct. 26, in the East Union, Richard Goodman will discuss "Assessing the Potential Allergenicity of Food from Genetically Modified Insect Resistant Cowpeas, Golden Rice and Human Lactoferrin from Cow" as part of the Nebraska Gateway for Nutrigenomics Seminar Series.

Goodman joined UNL's Department of Food Science and Technology, in the Food Allergy Research and Resource Program in August 2004 as a research professor. He has published 35 peer reviewed papers, primarily on allergy and immunology. He received his Ph.D. in Dairy Science at Ohio State University in 1990, focusing on molecular biology. His postdoctoral training included three years in immunology and parasitology at Cornell University followed by four years as a research scientist in pulmonary immunology at University of Michigan from 1993-1997. He was the Allergy Program Manager for the safety assessment of genetically modified crops at Monsanto Company from 1997-2004.

He currently directs the AllergenOnline.org database project at UNL, funded by the top six international agricultural biotechnology companies. His laboratory performs research to identify allergenic proteins and evaluate the relative allergenicity of GM crops and processed food fractions and on methods improvements for the safety assessment of GM crops. He is a consultant for various biotechnology and food companies. He has been involved in training visiting scientists from Africa, China, India and the Philippines in methods for evaluating GM crop safety.

Current collaborations/consultations include evaluation of insect-protected cowpea for Africa, Golden Rice for South Asia and human milk-protein expressing transgenic cows.

This free lecture is open to all.