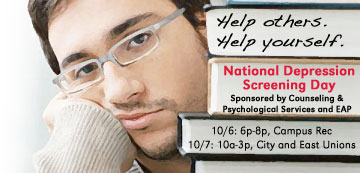 National Depression Screening Day is Oct. 7. The Employee Assistance Program and Counseling and Psychological Services are sponsoring free and confidential screenings Oct. 6 and 7. The Oct. 6 screenings are 6 to 8 p.m. at the Rec Center. The Oct. 7 screenings are 10 a.m.-3 p.m. in the Nebraska and East unions.

Held annually during Mental Health Awareness Week in October, National Depression Screening Day is the nation's oldest voluntary, community-based screening program that provides referral information for treatment. Since 1991, more than half a million people each year have been screened for depressions nationwide during the screening day.

Research reports that 66 percent of students felt hopeless at least once during the past year. National Depression Screening Day raises awareness and educates students about the signs and symptoms of mood and anxiety disorders, as well as connecting at-risk students to the resources they need.

"Many students don't associate their lack of energy to a mood disorder," said Robert Portnoy, director of Counseling and Psychological Services. "Often, they feel like being too tired all the time is a normal part of being a student. This is not true. We're offering completely anonymous screenings for depression, bipolar disorder, generalized anxiety disorder and post-traumatic stress disorder. Students don't have to feel that way. Help is available."

If unable to make it to the free screenings, online screenings are available for UNL students in the areas of depression, manic depression, anxiety, eating disorders and alcohol user. Access the assessments at http://www.health.unl.edu/caps. Once the assessment is complete, students can schedule an appointment with one of the University Health Center professionals for further evaluation and, if indicated, to develop a treatment plan.

For more information, call 472-7450.
More details at: http://go.unl.edu/c93