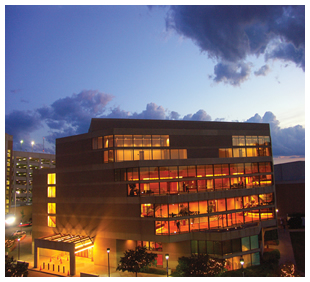 The Lied Center for Performing Arts has raised the curtain on a 21st season that will present 43 performances of 36 shows.

Headliners include Blue Man Group, "Spamalot," "A Chorus Line," "Menopause: The Musical," Bernadette Peters, Rockapella, Branford Marsalis, Garrison Keillor, Capitol Steps, Joshua Bell, and the Count Basie Orchestra.
Season tickets are on sale now, and season buyers enjoy discounts of up to 20 percent off the single-ticket price, additional savings on fees, and are guaranteed the best available seats for best-selling shows.

The 2010-11 Season offers a large array of programs for nearly every taste:

Broadway: Blue Man Group (Jan. 28-30), "Spamalot" (Nov. 30-Dec. 1), "A Chorus Line" (March 4-5), "Fiddler on the Roof" (Oct. 12-13), "Menopause: The Musical" (April 1-2).

Popular: Bernadette Peters (Oct. 1), Los Lonely Boys (April 9), Harlem Gospel Choir (Feb. 19), April Verch Band (March 30), The Elders Celtic rock band (March 17), Rockapella a capella group (Oct. 6), The Official Blues Brothers Revue (Feb. 4), Barrage fiddle and dance spectacular (Nov. 12), Hank and My Honky Tonk Heroes: a tribute to the legendary Hank Williams (Nov. 23).

Classical: Cape Town Philharmonic Orchestra with guest violinist Philippe Quint (Feb. 26), singer Sylvia McNair (April 14), pianist Vladimir Feltsman (Oct. 26), violinist Joshua Bell (Jan. 23), and pianist Jon Nakamatsu (April 7).

Big Band and Jazz: Wayne Bergeron with The Nebraska Jazz Orchestra (Oct. 15), saxophonist Branford Marsalis and trumpeter Terence Blanchard (Feb. 25), Count Basie Orchestra (March 18), "Simply Sinatra" with Steve Lippia (April 29).

Dance: Western Ballet Theatre's "Alice in Wonderland" (Feb. 18), Alvin Ailey American Dance Theatre (March 8), Many Moccasins native American dance and music group (Oct. 25), AXIS Dance (Oct. 8).

Theatre and Comedy: Ed Asner in "FDR" (March 11), Aquila Theatre Co.'s "A Midsummer Night's Dream" (Nov. 5), Capitol Steps comedy troupe (Oct. 21).

For All Ages: Imago Theatre (April 16), The Flying Karamazov Brothers (Oct. 9).

Kids: Disney's "Choo Choo Soul" (March 2).

Holiday: Christmas with Boston Brass Big Band (Dec. 11).

One-Man Shows: Garrison Keillor (March 10), Peter Sagal (Nov. 6).

For more information on the individual shows and tickets, go to http://www.liedcenter.org, or the Lied Center Ticket Office, 301 N. 12th St., or telephone (402) 472-4747 or (800) 432-3231.

The Lied Center serves the people of Nebraska and aims to ensure that every citizen has the access and opportunity to enjoy great art and entertainment. To that end, the Lied has priced its tickets very competitively. Adult tickets start at $18, with half-price tickets for UNL students and youth. Season buyers purchasing four shows or more receive additional discounts. For season package buyers, the Lied also offers the service of a payment plan called Lied Layaway and a payroll deduction option for UNL employees. This service is free of charge.

Major donors to the Lied receive preferred seating assignments through May 31. Starting June 1, season ticket seating assignments are made on a first-come, first-served basis. Single ticket sales begin Aug. 16.

The Lied Center for Performing Arts is a state-of-the-art performing arts facility. The Lied Center, opened in 1990, is Nebraska's "Home for the Arts." The facility offers major regional, national and international events designed to attract, entertain and inspire a statewide audience, as well as an incredible setting for rental events, including performances, meetings, tailgates and more. AdventureLied, the education arm of the Lied, creates a wealth of enriching programs for the community, serving more than 16,000 students of all ages each year.
More details at: www.liedcenter.org