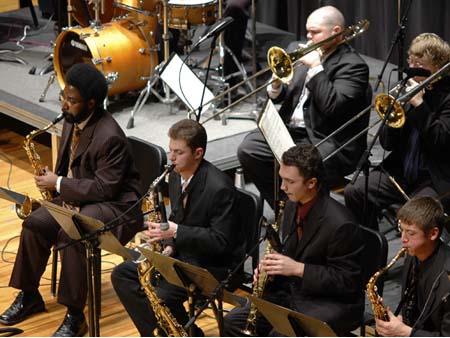 The Sheldon Museum of Art is unofficially opening the Jazz in June series a week early.

On May 25, the Sheldon will host the premier of the NET Television program "Jazz Cabaret," which features UNL's Faculty Jazz Ensemble. The free, public screening and reception begins at 7 p.m. in the Sheldon's Ethel S. Abbott Auditorium.

The program was recorded before a live studio audience in an intimate cabaret-style setting. The UNL Faculty Jazz Ensemble includes Paul Haar, saxophone; Darryl White, trumpet; Eric Richards, trombone; Peter Bouffard, guitar; Rusty White, double bass; Tom Larson, piano; and Steve Helfand, drums. Joining the septet on several songs is UNL graduate student and alto saxophonist Brandon Holloman.

The statewide broadcast premiere of "Jazz Cabaret" will be in July on NET Television.

The premiere screening is free, but RSVP to guarantee a seat by calling 1-800-634-6788 or go online to http://www.netnebraska.org/reply.