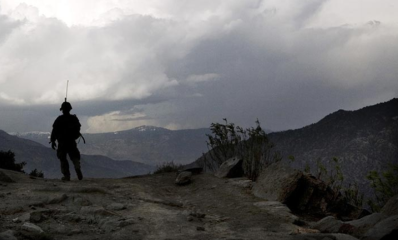 The Mary Riepma Ross Media Arts Center will host a movie talk and a discussion with a director this weekend, showcasing the films "Harmony and Me" and "Restrepo."

Director Bob Byington, who grew up in Lincoln, will answer questions about his film "Harmony and Me" following the 7:30 p.m., Oct. 15 screening. And, at 2:45 p.m., Oct. 17 the "Restrepo" movie talk will feature UNO research associate Sher Jan Ahmadzai, and U.S. service men Russell Bartholow, Robert Holbert, Darren Shadix and Chris Stokes.

Admission to the movie screenings is at regular Ross prices.

"Harmony and Me" takes place in Austin, Texas, where a melancholy young lyricist named Harmony (Justin Rice) refuses to let go of the heartbreak caused by a crushing break up with his girlfriend. He remains stubbornly unhappy, reducing his story of lost love to a broken-record spiel that he repeats to friends, family, and anyone else who will listen. Although his depression annoys his tough mom, Harmony's, friends, as oddball and eccentric as he, seem largely unaffected by his cultivation of misery.

"Restrepo" is a feature-length documentary that chronicles the deployment of a platoon of U.S. soldiers in Afghanistan's Korengal Valley. The movie focuses on a remote 15-man outpost called Restrepo, named after a platoon medic who was killed in action. The outpost was considered one of the most dangerous postings in the U.S. military. "Restrepo" is an entirely experiential film: the cameras never leave the valley; there are no interviews with generals or diplomats. The only goal is to make viewers feel as if they have just been through a 94-minute deployment.

Ahmadzai is a research associate at the Center for Afghanistan Studies at UNO. He has served at various positions at the Office of the President of Islamic Republic of Afghanistan.

Major Holbert is the Regional Training Coordinator for the Army's Human Terrain System. Stationed in Fort Leavenworth, Major Holbert prepares military personnel, linguists and civilian social scientists attached to military units who are tasked to provide social and cultural analysis in order to aid the military in working with the local population in theater operations. Prior to active duty and serving in Afghanistan, Major Holbert taught social studies at Lincoln High and is a native of Lincoln.

First Lieutenant Bartholow is a member of the Nebraska Army National Guard. He spent 22 months in Afghanistan from early 2008 until late 2009 serving as the head of a five-person "Effects Cell" in northern Afghanistan. He was responsible for developing and conducting civil-military projects in the nine northern Afghanistan provinces.

Sergeant Shadix served as a paratrooper with 3rd Platoon, Battle Company of the 173rd Airborne in the Korengal Valley.

Stokes flew an A-10 Warthog with the 303rd Fighter Squadron in Afghanistan during summer 2006.

For more information on movies and events at the Ross, go to http://www.theross.org or call 472-5353.
More details at: http://www.theross.org