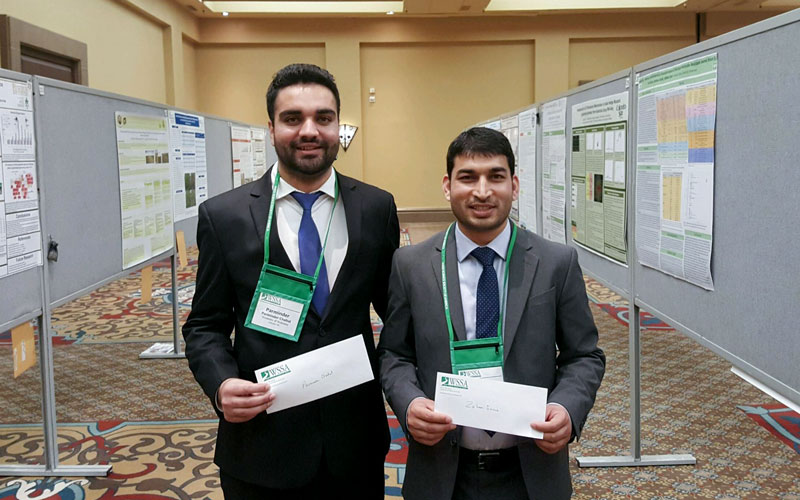 University of Nebraska–Lincoln agronomy doctoral students Zahoor Ganie and Parminder Chahal and postdoc Debalin Sarangi took top honors at the 57th Annual Meeting of the Weed Science Society of America held Feb. 6-9 in Tucson, Arizona. They work with Amit Jhala, assistant professor of agronomy and horticulture and Nebraska Extension weed specialist.

Ganie and Chahal both received first place in the WSSA Outstanding Ph.D. Student Poster Contest Award.

Ganie's poster was titled "Pollen-Mediated Gene Flow from Glyphosate-Resistant to -Susceptible Giant Ragweed (Ambrosia trifida L.) under Field Conditions." His research focus involves investigating the physiological and molecular mechanisms of glyphosate resistance in common ragweed from Nebraska, the effect of varying growth temperatures on herbicide efficacy in ragweed species, pollen-mediated gene flow and modeling the dissemination of glyphosate-resistance in giant ragweed, and integrated weed management with tillage and herbicides in giant ragweed.

"Effect of Degree of Water Stress on the Growth and Fecundity of Palmer amaranth" was Chahal's poster title. His research focus is on the effect of water stress on the growth and fecundity of Palmer amaranth, the basis of synergism of atrazine and HPPD inhibitor herbicide combinations on atrazine- and HPPD inhibitor-resistant Palmer amaranth and on the management of atrazine- and HPPD inhibitor-resistant Palmer amaranth in corn.

Sarangi received his doctorate from Nebraska in 2016 and is now a postdoctoral research associate. He received first place in the WSSA Outstanding Photography Award with his photo titled "Risk of Gene Flow: Johnsongrass Plant in a Sorghum Field."

Sarangi's research focus is on the biology, gene flow, and management of herbicide-resistant weeds in Nebraska. He also works on the pollen-mediated gene flow from ALS inhibitor herbicide-tolerant sorghum to a weedy Sorghum sp., as well as to the cultivated (non-herbicide tolerant) sorghum.

See http://agronomy.unl.edu/jhalalab for more information about Jhala Weed Management Lab.
More details at: http://agronomy.unl.edu/news/ganie-chahal-and-sarangi-take-top-honors-weed-science-society-america-meeting