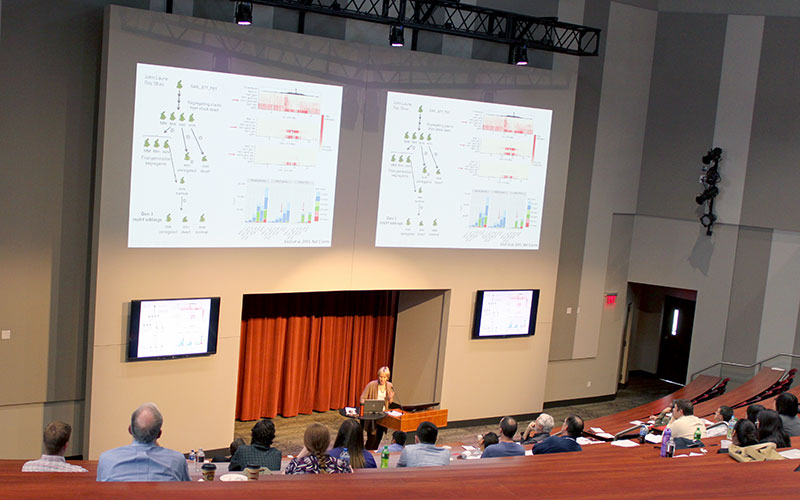 The Nebraska Plant Breeding Symposium has become an annual event at the University of Nebraska–Lincoln, gathering scientists, researchers, plant breeders, genomicists and students from across the nation. This year's symposium is March 14 from 8:30 a.m. to 4:30 p.m. at the Nebraska Innovation Campus Conference Center.

The event is part of the DuPont Plant Science Symposium Series initiated in 2008, spanning multiple universities. The theme of the 2017 Nebraska symposium is "New Frontiers in Plant Breeding—Genomics and Beyond" with goals to enhance agricultural scientific literacy, stimulate collaboration and help build interest in plant breeding careers.

This one-day event is free, open to the public with a free, catered lunch and offered via webinar to the broader scientific community around the world at https://connect.unl.edu/pbgsymposium.

The symposium is organized by a committee of graduate students from the Department of Agronomy and Horticulture including Madhav Bhatta, Karen Ferreira da Silva; Mary Happ; Dikungwa Ketumile; Sunil Kumar KR, chair; Zhikai Liang; Ravi Mural; Mon-Ray Shao; Jorge Venegas, vice chair and Jake Ziggafoos. Faculty adviser is David Hyten, Haskins Professor in Plant Genetics and associate professor of soybean genetics and genomics.

The symposium organizing committee has gathered highly-recognized, nation-wide experts to speak on plant breeding and genomics including:

• Robin C. Buell, Michigan State University, "Genome biology of wild and cultivated potato"
• John Doebley, University of Wisconsin-Madison, "Genetics of maize domestication: low hanging fruit and dark matter"
• Reka Howard, University of Nebraska–Lincoln, "Advancements in genomic prediction"
• Andrew H. Paterson, University of Georgia, "Toward production systems incorporating ratooning/perennial grain crops"
• Frank Technow, DuPont Pioneer, "Going beyond statistics—the case for biological whole genome prediction models"

Cash prizes will be awarded to the top four student oral presentations and top three poster presentations.

Visit go.unl.edu/NPBS2017 (https://connect.unl.edu/pbgsymposium) to register for the event and to submit a poster presentation abstract. The deadline is Feb. 24.

Funding for this symposium is provided by DuPont Pioneer, the University of Nebraska–Lincoln Department of Agronomy and Horticulture and the Agricultural Research Division and from the Dermot P. Coyne Distinguished Lectureship fund.
More details at: http://agronomy.unl.edu/news/plant-breeding-symposium-goals-enhance-ag-scientific-literacy-foster-collaboration