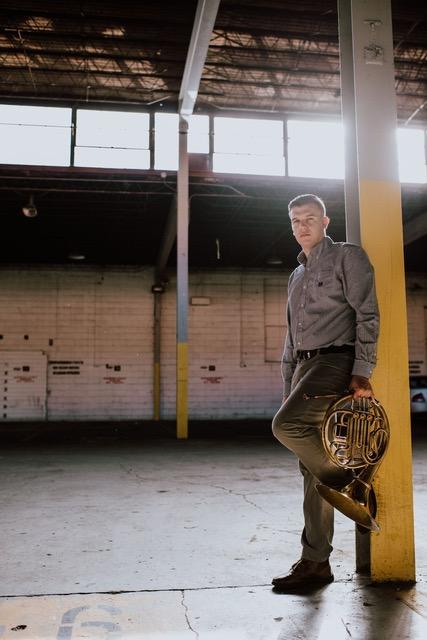 Jordan Redd, a doctoral horn student in the Glenn Korff School of Music, is the First Prize Winner in the Golden Classical Music Awards International Competition.

"I was pretty excited when I found out I placed," Redd said. "I knew that the competition was going to be pretty stiff, but I knew I could hang. I'm really just obsessed with trying to get better and be the best that I can be. Competitions like this one are a good way to do it, in my opinion."

It is the second major placement in international competition for Redd, who recently won 2nd place in his category at the 27th annual World Music Competition.

The Golden Classical Music Awards International Competition's purpose is to discover artists of outstanding personality and provide awards that can help to launch international careers.

"Jordan is simply having an explosive summer," said Professor of Horn and Assistant Director of the Glenn Korff School of Music Alan Mattingly. "On the heels of being awarded 2nd place in the World Music Competition, he was named a First Prize Winner in the Golden Classical Music Awards International Competition and will perform a recital in 2021 at Carnegie Hall in the stunning Weill Recital Hall. The consistent success Jordan has experienced through these competitions will have a tremendous impact on his success when he graduates from the Husker Horn Studio in the Glenn Korff School of Music."

As a First Prize Winner, Redd has been invited to perform at the Weill Recital Hall at Carnegie Hall in March 2021.

"I am definitely planning on performing at the winners competition," Redd said. "It's an honor to be selected to do so, as well. This will be the first time I've played in Carnegie Hall. It has definitely been a dream of mine to do so, so I'm pretty stoked."

Originally from Fayetteville, North Carolina, Redd received his undergraduate degree from Southeast Missouri State University, where he studied with Husker alumnus Nicholas Kenney. Redd received his Master of Music from Nebraska in 2018 before pursuing his DMA.

Redd won the Nebraska state round of the MTNA Young Artist Competition two years in a row and was a National Finalist in 2018. In 2019 he was awarded first prize in the Grand Prize Virtuoso International Music Competition.

Redd has performed with orchestras including the Paducah Symphony Orchestra (KY), the Jackson Symphony Orchestra (TN), the Omaha Symphony (NE), and was a soloist with the Mannheim Steamroller Christmas Tour in Sioux City, Iowa. In the summer of 2017 Redd performed at Festival Suoni d'Abruzzo in Guardiagrele, Italy and in 2017 and 2018 he served as Principal Horn of the FOOSA Philharmonia, which included performances in Walt Disney Concert Hall in Los Angeles, California.