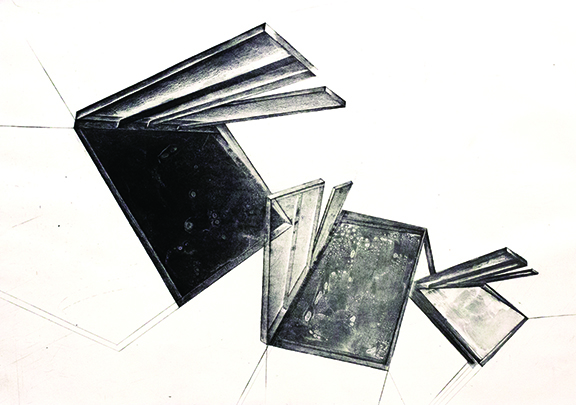 Last spring, the University of Nebraska–Lincoln had to transition to remote learning due to the coronavirus. It meant the postponement of the April MFA exhibitions in the Eisentrager-Howard Gallery in Richards Hall.

This fall, the gallery will re-open with those four MFA exhibitions, as well as special protocols to protect gallery patrons from COVID-19.

"Spring 2020 MFA Graduates in Studio Art: Amanda Durig+Sophia Ruppert" exhibition will open Aug. 24 and run through Sept. 4. "Spring 2020 MFA Graduates in Studio Art: Neil Celani+P.J. Hargraves" exhibition will open Sept. 21 and run through Oct. 2.

Gallery hours for both exhibitions are Monday-Friday, 12:30-4:30 p.m. or by appointment. A maximum of 15 people will be allowed in the space at a time. There will be no opening or closing receptions for either exhibition.

Durig's exhibition is titled "What the Eyes See and the Mind Knows." Her work is informed by nature, research and illustration and is rooted in the routine of the everyday.

From her artist statement, she wrote, "I collect reference imagery like data and allow my memory to reconstruct and revise mental imagery. Through this process, I recontextualize pre-existing visual language with imagination and experience to give life to new forms. This reconstruction of visual vocabulary allows for a new voice containing a contrast between the biomorphic and the geometric, and the contrast between a colorful painting and a black and white drawing."

Ruppert's exhibition is titled "I Poked You Where We Were Connected." Her sculptures investigate the residue of these objects to dissect and examine her personal history.

In her artist statement, she wote, "Experiential fragments and memories are a testimony of personal description. My work attempts to calm the dissonance of memory and share the resulting narrative. Ultimately, my work describes self, history, and a personal theology in transformation. This theology allows me to create beauty in spite of trauma."

Celani's exhibition is titled "Eat My Quartz." His body of work engages with pop iconography explored through the lens of ancient ceramics.

In his artist statement, he wrote, "My work is centered around the pot and grounded by a profound fascination for this object, an inquisitive passion for its kaleidoscopic histories, and a deep respect for its makers. With the capacity to communicate conceptual meaning and serve as items of utility, pots not only dance in that notorious territory between art and craft, they embody the human experience."

Hargraves' exhibition is titled "Cornucopia." He creates imaginary, contained environments in which trees are bursting in joyous, full bloom.

In his artist statement, he wrote, "These scenes are teeming with life, an idealized abstraction of the natural world. Arrangements of birds and flowers adorn the pieces as a pattern of abundance and celebration. My sculptures are an overtly optimistic alternative to the pessimism that is present in many aspects of our culture, alluding to unabashed delight through the use of traditional American folk symbols and metaphors of good fortune, perseverance, hopefulness, and strength."

The Eisentrager-Howard Gallery is located on the first floor of Richards Hall, which is located at Stadium Drive and T streets on the university's city campus. Parking is available in the nearby Stadium Drive Parking Garage.

For more information, contact the School of Art, Art History & Design at (402) 472-5522.

For future updates and information regarding Eisentrager-Howard Gallery exhibitions and activities please follow us on Facebook at https://www.facebook.com/EHArtGallery/ or Instagram @eisentragerhoward.