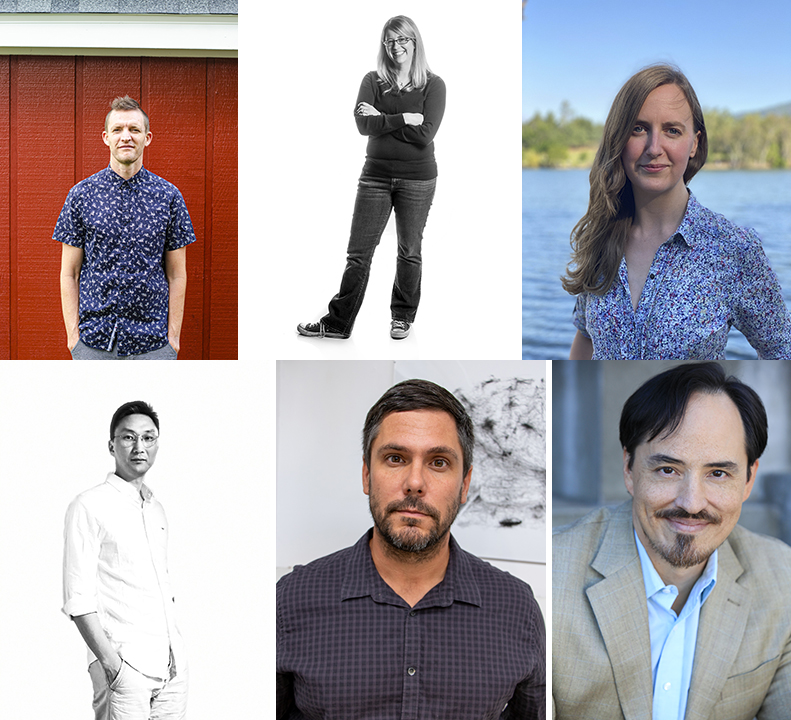 The Hixson-Lied College of Fine and Performing Arts welcomes the following new faculty this fall:

• Ben Evjen, Assistant Professor of Practice in Graphic Design
Evjen comes to Nebraska from Utah Valley University, where he was assistant professor and program coordinator in the Art & Design Department. He has also served as an adjunct instructor at Virginia Commonwealth University in Richmond, Virginia.

His professional experience includes art director for Real Salt Lake in Sandy, Utah, as well as senior designer for iFrogz in Logan, Utah, and designer for the Polynesian Cultural Center in Laie, Hawaii. He was also a designer for Victorinox Swiss Army Knife Design Team in Switzerland in 2006 and for the International Committee Red Cross Design Team in Switzerland in 2005.

Evjen is a member of the American Institute of Graphic Artists (AIGA). He has received numerous awards and honors, including Gold and Silver Addys from the American Advertising Awards and top honors in the Salt Lake City AIGA 100 show. He has also exhibited his work in Virginia, Utah, Qatar and Germany.

Evjen received his M.F.A. summa cum laude in design/visual communications from Virginia Commonwealth University, and his B.F.A. cum laude in graphic design from Utah State University.

• Michelle Harvey, Assistant Professor of Lighting
Harvey comes to Nebraska from Kansas City Repertory Theatre (KCRep), where she had been lighting and video supervisor since 2014. She has also served as lighting designer for numerous productions at KCRep, including Welcome to Fear City and Lot's Wife.

Her lighting design credits include The Missouri Theatre, Show Me Opera, Feral Tale Theatricals, Nevada Ballet and Nevada Conservatory Theatre, among others. She was an instructor at the University of Nevada-Las Vegas from 2010-2014.

She has also toured with The Magic of Curtis Adams, Dance Affiliates: Thank-You Gregory, and the American Indian Dance Theatre.

Harvey received her M.F.A. in theatre arts from the University of Nevada-Las Vegas, and her B.F.A. in theatre arts from the University of Nebraska–Lincoln.

• Anna Henson, Assistant Professor of Practice in Emerging Media Arts
Henson is an artist and researcher working in embodied and social interaction design for spatial computing and immersive experiences. She creates and prototypes interactions, environments, and user journeys which center participant agency, new narratives, and unite our digital and physical worlds. Henson's creative research focuses on XR (mixed reality), volumetric capture, and new forms of storytelling.

Henson has a Masters of Science in Computational Design (XR, Interaction & Experience Design, Volumetric Capture) from Carnegie Mellon University; a B.S.S. in Fine Art from Cornell College; and an M.F.A. from the Glasgow School of Art where she was also the recipient of the Emerging Artist Award.

Interdisciplinary to her very core, Henson has a long career as an educator; a creative producer for tech startups, VR companies, and experiential agencies; as well as a decade plus career as a projection and media designer for Broadway, Off-Broadway, and regional theatres.

To see more of her work, visit http://www.annahenson.com.

• Jinku Kim, Assistant Professor of Practice in Emerging Media Arts
Kim has over 15 years of experience working as an educator and multidisciplinary artist. He has extensive experience in audio-visual production and digital art, including audio-visual performance and installations, hardware and software design, and site-specific projects, as well as digital modeling and fabrication. Kim has taught undergraduate/graduate courses, including audio-visual narrative, and hardware and software instrument design.

His works have been performed and installed at REDCAT in the Walt Disney Concert Hall, the Whitney Museum of American Art in New York, STEIM in Amsterdam, and The New Children's Museum in San Diego, among others.

Kim has a Ph.D. in Computer Music and Multimedia from Brown University; an M.F.A. in Integrated Media and Experimental Sound Practice from California Institute of the Arts; and a B.M. Professional Music: Electronic Production and Design from Berklee College of Music.

To see more of his work, visit http://www.grayscale64.com.

• Robert Twomey, Assistant Professor of Emerging Media Arts
Twomey is an artist and engineer exploring the poetic intersection of human and machine perception. He exploits the potential of new technologies while critically revealing their limits. Engaged with the messy conditions of everyday life, his works ask questions about our technologies and ourselves to reveal moments of insight and points of failure. He has been an Artist-in-Residence at the Arthur C. Clarke Center for Human Imagination (UCSD) and the STUDIO for Creative Inquiry, Carnegie Mellon University. Twomey has worked in a variety of research labs throughout his career, notably the Center for the Study of Learning, the Center for Research and Computing and the Arts with Sheldon Brown, the Experimental Design Lab with Natalie Jeremijenko, and the Center for Digital Arts and Experimental Media.

Twomey has presented his work at SIGGRAPH (where he won best Art Paper in 2017), the Museum of Contemporary Art San Diego, the Seattle Art Museum, the Athens Digital Arts Festival, and has been featured by Microsoft and the Seattle Times. His research has been funded by NVIDIA and Amazon.

Twomey received his BS from Yale with majors in art and biomedical engineering, his MFA in visual arts from the University of California, San Diego (UCSD), and his Ph.D. in digital arts and experimental media from the University of Washington. He comes to the Carson Center after being a postdoc with the Arthur C. Clarke Center for Human Imagination and a lecturer in electrical and computer engineering, data science and visual arts at UCSD.

To see more of his work, visit http://www.roberttwomey.com.

• Rafael Untalan, Assistant Professor of Practice in Acting
Untalan (AEA/SAG/AFTRA) is an actor, director and Assistant Professor of Practice in Acting at the Johnny Carson School of Theatre and Film. He has served as a Guest Artist at Radford University in Virginia, Washington College in Maryland, and the Actor Training Program at the University of Utah.

Untalan earned his membership in Actors' Equity Association at the Oregon Shakespeare Festival, where he appeared in a dozen productions; served as a Teaching Artist for the OSF Institute; completed six annual tours for their School Visit Program (SVP); and led student workshops at institutions spanning the West coast, including Stanford and the University of Oregon.

As a professional actor, Untalan has performed at several major regional repertory theaters, among them: Arena Stage in Washington, D.C. (Walter in The Price, with Hal Linden); Cleveland Play House (Sherlock Holmes in Ken Ludwig's Baskerville, A Sherlock Holmes Mystery); Cincinnati Playhouse in the Park; Theatreworks Silicon Valley; Portland Center Stage (originating the role of Concomly in Astoria, Part II); and A Contemporary Theatre in Seattle. Untalan has also worked at multiple small professional theaters nationwide, including Seattle Children's Theatre and Spooky Action Theater in D.C. He was recognized as Best Featured Actor in a Play by DC Metro Theater Arts, for his portrayal of Marcus Gee in Yellow Face at Theater J.

Untalan recently directed The Very Hungry Caterpillar Show at Imagination Stage, in Bethesda, Maryland, which has been nominated for a Helen Hayes Award.