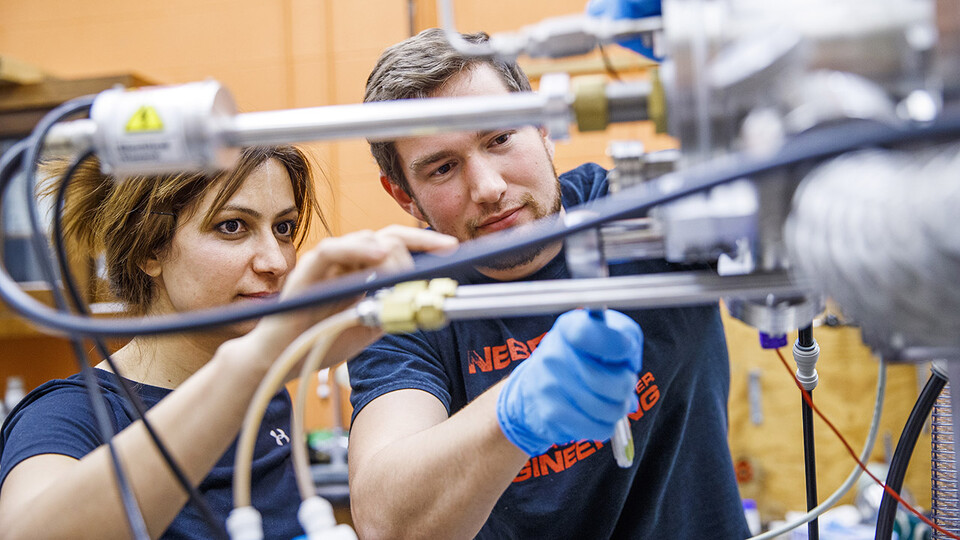 With a goal to help increase gender diversity in the engineering workforce and provide educational opportunities for Nebraska students with financial need, the Peter Kiewit Foundation Engineering Academy in the University of Nebraska–Lincoln's College of Engineering will provide new possibilities for the next generation of professionals in engineering, computing and construction.

Beyond developing students individually, this new, one-of-a-kind academy will increase access and enhance diversity by removing financial barriers to engineering education and encouraging and supporting more Nebraska women to pursue careers in engineering, computing and construction.

Beginning in fall 2022, annual cohorts of 40 first-year students will be selected to the program, which will provide funding for tuition, housing and other educational expenses, along with stipends for professional attire and a laptop computer.

"The Peter Kiewit Foundation Engineering Academy will dramatically increase the college's ability to meet the workforce needs of Nebraska industry while allowing many more Nebraska students to earn a valuable engineering education," Dean Lance C. Pérez said. "We are very grateful to the Peter Kiewit Foundation for their partnership and for their commitment to enabling Nebraskans to pursue careers in engineering."

The academy expands on the foundation of the college's Complete Engineer initiative, ensuring students participate in experiential learning and the development of essential competencies in tandem with the technical expertise provided by a Big Ten engineering degree from Nebraska.

Students in the academy will be empowered to make a positive impact in their fields through exclusive seminar courses, dedicated coaching and the support of a faculty fellows' network. The program supports student development through inclusion education, a learning community, student participation in an advisory board, and peer mentorships.

"The Peter Kiewit Foundation Engineering Academy will provide students with the opportunity to succeed in their postsecondary education and prepare them for a career in engineering," said Wendy Boyer, Peter Kiewit Foundation executive director. "It is our hope the scholarship recipients benefit economically from being employed in a high-skilled, high-wage career, but also become engaged as civic leaders in their communities and collectively contribute to a strong workforce that will help grow the state's economy."

The program is open to incoming freshmen on the college's Lincoln and Omaha campuses. Selected students must be admitted to the College of Engineering, be a resident of Nebraska, demonstrate financial need, and show their interest and commitment to the advancement of women in engineering.

The Peter Kiewit Foundation was established by Peter Kiewit, an Omaha philanthropist and community leader. After Kiewit's death in 1979, the bulk of his personal estate was set aside to create a foundation to support charitable and public purpose projects in Nebraska and other limited geographic areas.

The foundation is a private, independent philanthropic trust not legally or administratively affiliated with the operating companies that also bear Kiewit's name. It has awarded more than $800 million in grants and scholarships since its founding.

The University of Nebraska–Lincoln is home to the sole College of Engineering in Nebraska, supplying workforce, technological innovation and leadership in engineering, construction and computing.

For more information on the new academy, click here.
More details at: https://news.unl.edu/newsrooms/today/article/peter-kiewit-foundation-engineering-academy-aims-to-increase-access/