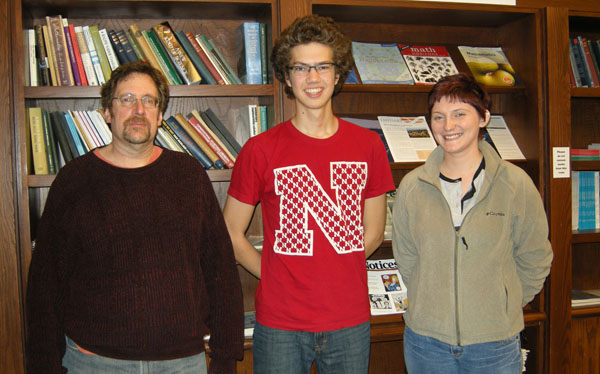 The UNL Department of Mathematics recently received funding from the National Science Foundation S-STEM program to implement the "Nebraska Math Scholars" scholarships. This is a program that will provide scholarships to financially disadvantaged students who choose to major in a STEM (science, technology, engineering, mathematics) field and select mathematics as (at least one of) their majors.

The goal of the program is to increase the number of students pursuing degrees from the Department of Mathematics and other STEM disciplines. To do this, UNL seeks to recruit talented mathematics students, including those who might not otherwise attend college, or might not be able to fully commit to college, due to financial constraints. The students who receive this scholarship will also benefit from enhanced mentoring opportunities, participation in a very active math club, and the networking opportunities that accompany being part of a social and intellectual community.

Several scholarships are available. For the 2012-2013 academic year, the UNL Department of Mathematics expect to award approximately six three-year scholarships (mostly to incoming students), and two two-year and four one-year scholarships for current students.

Dr. Richard Rebarber, the lead coordinator of the program, said, "We want teachers to know that these scholarships are available so that they can share the information with their students." He also adds, "What students might not understand is that they don't have to major only in mathematics to be eligible for the scholarships. As long as students major in a STEM discipline and select mathematics as ONE of their majors, they are eligible for a scholarship."

Here are some details: The scholarships are awarded on the basis of academic potential, and the amount of the scholarships is up to $10,000 per year, determined by financial need as documented by your FAFSA form. Prospective UNL students are automatically considered for the scholarship if they declare math as a major and fill out a FAFSA form. To be considered for support during the 2012-13 academic year, the FAFSA form must be completed by April 2, 2011.

Returning students who wish to be considered for scholarships should visit the website http://scimath.unl.edu/NebraskaMathScholars to apply (the FAFSA form is required for returning students as well).

Once a student has a scholarship, continued support is determined by academic performance, maintaining a major in Mathematics, Science or Engineering, and continued financial need. Students must be U.S. citizens or permanent residents, and enrolled full-time to be considered for this scholarship.

For more information, go to: http://scimath.unl.edu/NebraskaMathScholars.
More details at: http://go.unl.edu/icc