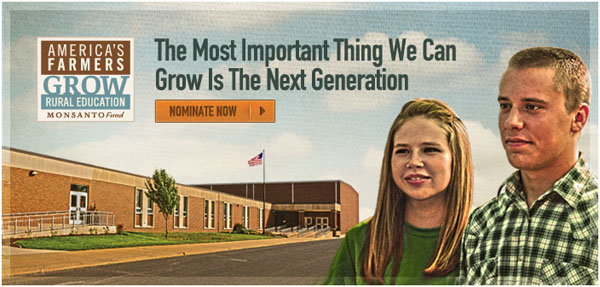 Monsanto's new rural education program will provide grants in more than 1,200 counties across 39 states to help strengthen local communities and education, especially in the areas of science and/or math.

NebraskaMATH editors hope this information is especially intriguing to our readers in rural Nebraska, and hope that some of you receiving this will nominate your schools.

Schools must be nominated by a farmer by April 15, 2012.

America's Farmers Grow Rural Education is sponsored
by the Monsanto Fund to help farmers positively impact
their communities by supporting local school districts. Specifically, the program gives farmers the opportunity to nominate a rural public school district in their community to compete for a merit-based grant of either $10,000 or $25,000 to enhance education in the areas of math and/or
science.

Eligible Nebraska counties include:

CRD 10: Box Butte, Cheyenne, Morrill, Scotts Bluff, Sheridan
CRD 20: Boyd, Brown, Holt, Rock, Wheeler
CRD 30: Antelope, Boone, Burt, Cedar, Cuming, Dakota, Dixon, Knox, Madison, Pierce, Stanton, Thurston, Wayne
CRD 50: Buffalo, Custer, Dawson, Greeley, Hall, Howard, Sherman, Valley
CRD 60: Butler, Cass, Colfax, Dodge, Douglas, Hamilton, Lancaster, Merrick, Nance, Platte, Polk, Sarpy, Saunders, Seward, Washington, York
CRD 70: Chase, Dundy, Frontier, Hayes, Hitchcock, Keith, Lincoln, Perkins, Red Willow
CRD 80: Adams, Franklin, Furnas, Gosper, Harlan, Kearney, Phelps, Webster
CRD 90: Clay, Fillmore, Gage, Jefferson, Johnson, Nemaha, Nuckolls, Otoe, Pawnee, Richardson, Saline, Thayer

For more information visit: http://www.americasfarmers.com/growruraleducation.