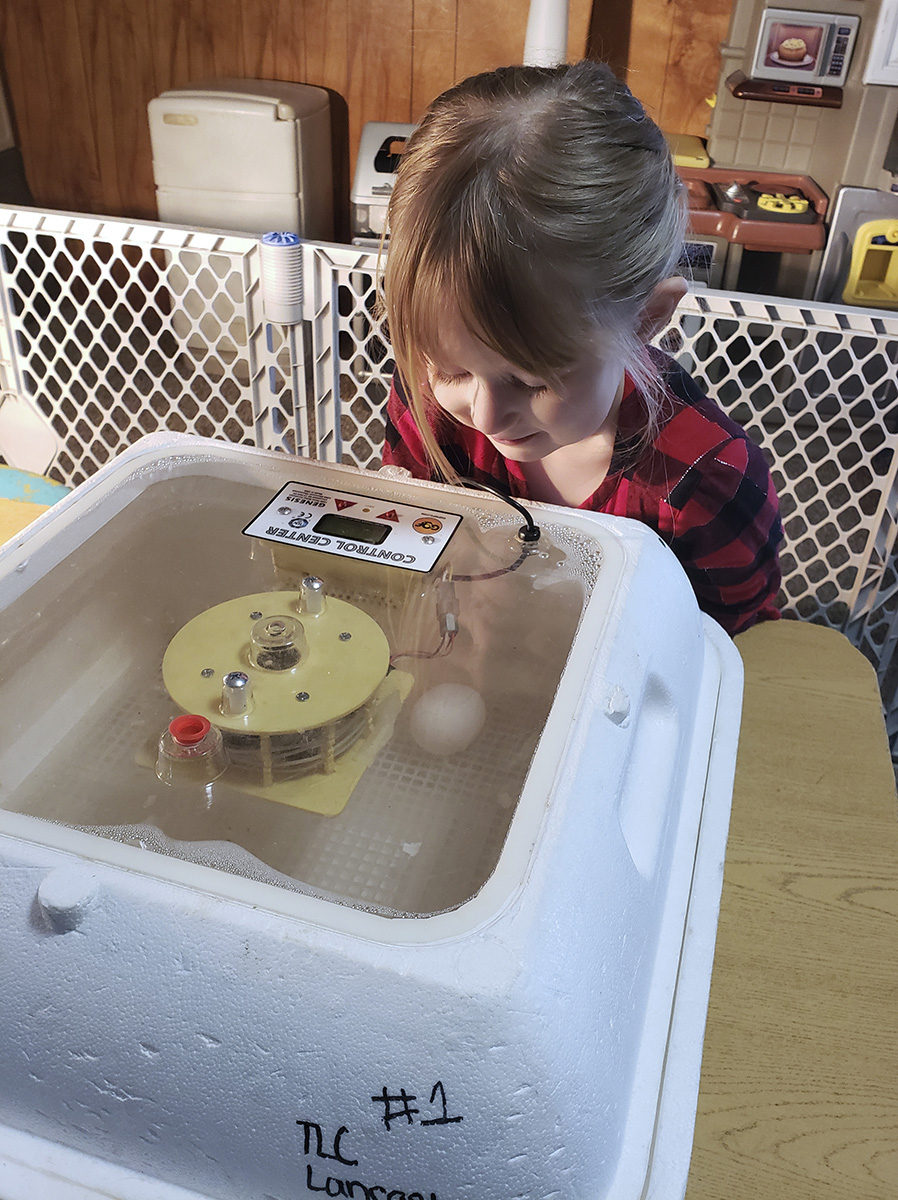 By Jaci Foged, Extension Educator, Lancaster County

Look Who's Hatching is a program available from Nebraska Extension for childcare centers and family childcare programs with preschool-age children. Each spring, a childcare workshop is offered at the Extension office to support early childhood teachers in learning to use an emergent curriculum in their classrooms. Emergent curriculum is a process where teachers plan activities based on the specific group of children they are working with, taking into account their skills, needs and interests.

The workshop, Look Who's Hatching: Exploring Oviparous (Egg Laying) Animals with Young Children, focuses on using the Experiential Learning Model to support children's learning. In the workshop, participants learn that rather than provide children with the answer to what is inside the eggs, teachers should instead follow the child's lead and explore all of the possibilities by asking questions that provoke children's thinking. This helps the children think about and process their ideas.

The Look Who's Hatching program starts with the concept of "What could be inside of the eggs?" A children's story about oviparous animals is read to the group, and children begin to wonder about what could hatch from their eggs — turtles, crocodiles, snakes and even dragons are some of the ideas children have. Children use magical thinking as a way of figuring out how things work.

When we provide children with an opportunity to think outside the box, magic happens. Suddenly it is more than just a simple egg, like the eggs they might have seen in their refrigerator. The simple provocation of what could be in the egg creates many days of exploration and learning — for the children, their parents and their teachers too! The program lasts approximately four weeks, but depending on the children's interests, classrooms might explore oviparous (egg laying) animals for many weeks after the chicks have hatched and left the classroom.

WHAT TO EXPECT
Week 1: Extension staff drop off incubators in participating classrooms. The following day, educators bring a variety of chicken eggs to the program. Shhh, don't tell the children they are chicken eggs! Extension staff will read a book to the children which discusses a variety of animals which hatch from eggs. Children then brainstorm what they believe will hatch from the eggs. Throughout the week, teachers observe the children and document what they see to identify areas of interest to build on — practicing using an emergent curriculum.

Weeks 2 and 3: Classroom teachers continue the discussion about what could be in the eggs and provide a variety of books and activities relating to the type of animals children think will hatch out of the eggs.

Week 4: The eggs typically hatch between Monday and Wednesday. Suzanne Schneider, a former childcare and preschool director in Lincoln, said, "The children couldn't even talk (as they watched the baby chicks hatch) they were just in awe. The way they hatched (over several days and times) allowed different children different opportunities to watch the process." Once the baby chicks hatch, children typically show interest in learning more about baby chickens. Teachers are encouraged to follow the children's interests and provide opportunities to further learn around this new concept.

HOW TO PARTICIPATE
Participation is fairly easy — attend the workshop (see separate announcement in this e-newsletter) and sign-up to bring the program to your classroom (for a small fee). Extension staff will deliver the necessary items (incubator, chicken eggs and brooder box) and Extension will pick everything up after the program is over. Hatched chicks are delivered back to the farm we received the eggs from, which can create a wide range of potential interests for children to explore even after the program is over.

Peer reviewed by Katie Krause and Leanne Manning.

For more information, contact Jaci Foged at jfoged2@unl.edu or 402-441-7180, or go to https://child.unl.edu/programs-professionals-families.