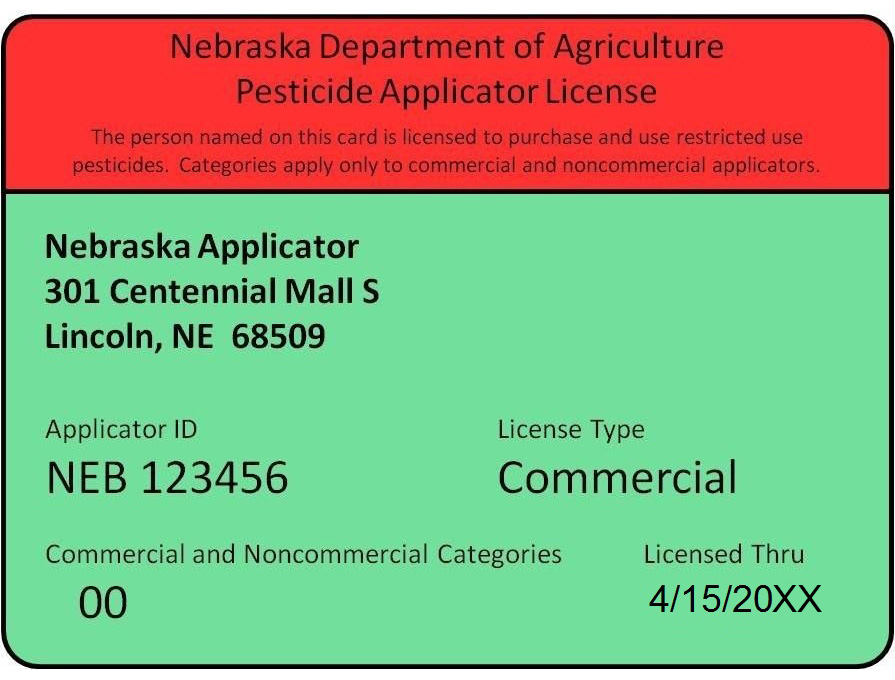 By Sarah Browning, Extension Educator, Lancaster County

Caring for a lawn and landscape is a lot of work! Mowing, fertilizating, seeding and weed control in a lawn; along with planting, pruning and pest management in trees and landscape areas requires more time than many homeowners have available or the equipment to accomplish. Plus, the identification of weeds and pests often needs a professional's knowledge.

If you would rather not perform any or all of these tasks, you have the option to hire a professional to do the work for you. How can you evaluate services offered by professionals or hire a good professional to work in your landscape? Below are two important aspects of professionalism to be aware of when hiring a landscape professional.

LICENSING & CERTIFICATION
Pesticide Applicators License — All lawn, tree and landscape professionals applying pesticides FOR HIRE — including weed, insect or disease control products — on another person's property must be a certified pesticide applicator and have a license issued through the Nebraska Department of Agriculture. The ornamental and turf category, in which all turf, tree and landscape professionals are certified, requires applicators have a license for the use of BOTH general and restricted-use products. So it doesn't matter if the person applies a product homeowners can buy at their local nursery, the professional still must have a pesticide applicators license to make the application. Landscape professionals do not need a license to apply fertilizer as long as the product does not include any pesticide products, such as a pre-emergent herbicide.

Certified pesticide applicators attend training every three years to keep their license current. Training keeps them current on changes in pesticides or their applications, and reinforces the applicator's knowledge of identifying pest problems. Applicators are required to carry their license with them whenever they are making applications, so ask to see it.

Municipal Arborist License — Many cities and towns, including Lincoln, require professionals providing tree services for hire to be licensed with the city. To obtain a license, tree workers must pass a written test administered by the Lincoln Parks & Recreation Department or provide proof they are a certified arborist with the Nebraska Arborists Association and/or the International Society of Arboriculture.
In Lincoln, before obtaining a municipal arborist license, arborists must also comply with the city's insurance requirements. Always ask any potential professional to provide proof of insurance.

Professional Certifications — Even those living in the country or in a town that doesn't have municipal arborist licensing requirements, it's always a good idea to look for professionals certified through the Nebraska Arborist Association or International Society of Arboriculture. These organizations require applicants to pass a rigorous written test on a broad range of arboriculture topics, such as tree identification, planting, pruning, fertilization and pest control, to obtain certification. Certified arborists must regularly attend continuing education programs to maintain their certification status.

Other certifications to look for include the Nebraska Nursery & Landscape Association, which administers the certified nurseryman program. Nebraska Turfgrass Association members are connected to the latest University of Nebraska Turfgrass Research Program information. Membership in any of these professional organizations indicates a higher level of commitment to the industry and a more knowledgeable professional. 

KNOWLEDGE & EXPERTISE
Whether you're investigating a new company or have been working with a company for several years, they should always be able to explain why they are recommending certain applications or management strategies and what results you should expect to see in your landscape.

 Too often homeowners don't understand the applications being used in their landscapes, so don't be afraid to ask! If you still don't understand the need for the recommended applications, contact the Extension office for help understanding what's being recommended.

Finally, professionals should always keep protection of the environment as a core goal. Keep these thoughts in mind. 

• Professionals should never use pesticides in a manner not listed on the product label. The label is the law and not following label recommendations indicates lack of professionalism.

• When only low levels of weeds occur in your lawn or landscape, your professional should recommend spot-treating, instead of broadcasting products throughout the entire area.

• Your lawn professional should recommend watering practices geared toward conserving water, while still encouraging good turf root development for a healthy lawn.

• Fertilizers and pesticides should always be precisely applied. If granular fertilizer, pesticides or grass clippings get onto sidewalks, driveways or in roadways, they must be swept back into the lawn to reduce potential impacts on water quality.