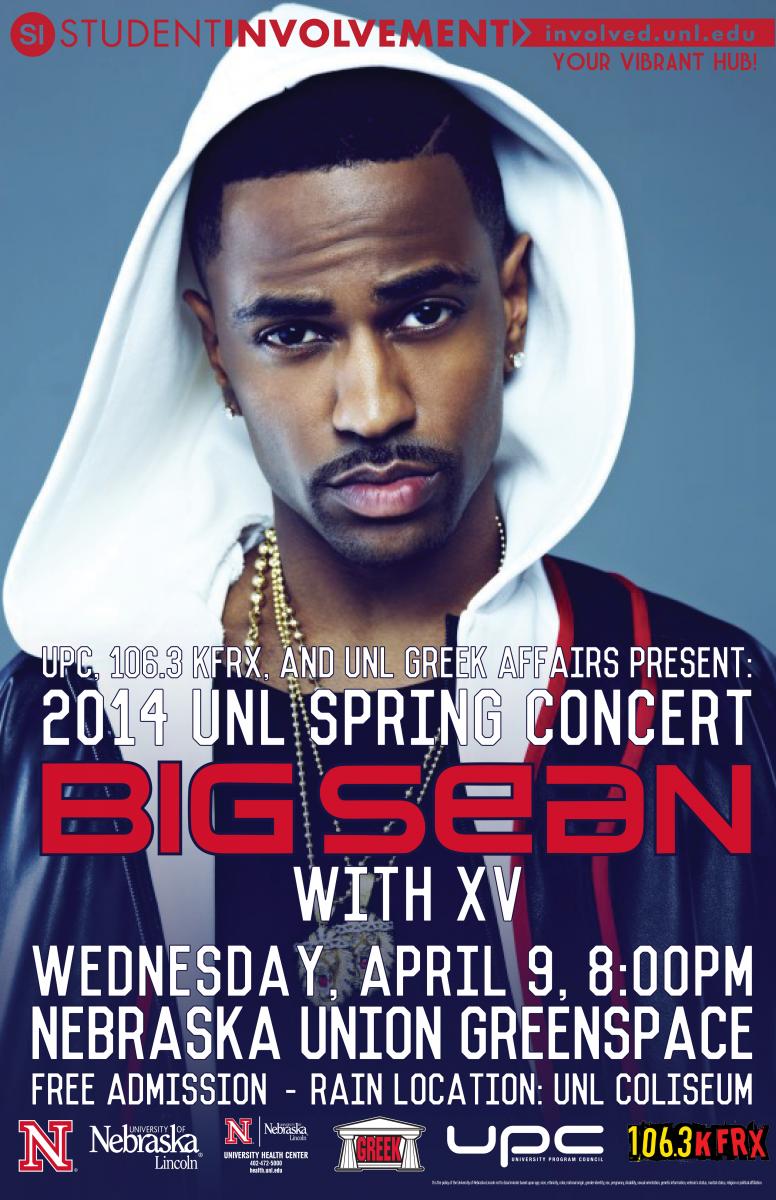 \The University Program Council (UPC), 106.3 KFRX, and UNL Greek Affairs are proud to bring chart topping hip-hop artist Big Sean with special guest XV to the UNL campus for a free outdoor concert. The concert is 8 p.m. April 9 on the Nebraska Union Greenspace with a rain location in the UNL Coliseum. The concert will be open to UNL students, faculty, staff, as well as the Lincoln community.

Headliner Big Sean is an American hip-hop artist from Detroit whose career has skyrocketed over the last couple years following the release of his debut album Finally Famous in July 2011. The New York Times declared the best-selling album "clever" and "confident" saying "the fun is contagious." Since then, Big Sean has received recognition that includes winning "Best New Artist" at the 2012 BET Awards, coming in at #5 on MTV's "Hottest MCs" List of the Year, and receiving double Grammy nominations for his collaboration with mentor Kanye West for the hit song "Mercy." Big Sean's best known hits include "Dance (A$$)" and "Beware", and he is featured on top tracks with artists such as Kanye West, Jay-Z, and Drake.

Opener XV is a rapper, singer, and songwriter from Wichita. XV describes his music style as "soulful old school beats combined with a futuristic twist." His lyrics embody his charisma and creative personality, and he gets his musical inspiration from artists such as Andre 3000, Jay-Z, Kanye West, and John Mayer. XV has released multiple successful mixtapes over the past few years and just dropped a brand new EP Madness Begins in March 2014.

This concert experience is made possible by the additional contributions of Iron N, Residence Hall Association (RHA), and the University Health Center.

The University Program Council (UPC) is a student organization that provides diverse, educational and entertaining programs to enhance the UNL community. UPC acts as the executive body responsible for the implementation of programs and activities funded by University Programs and Facilities Fees (UPFF). For more than 75 years, UPC has been providing entertainment for UNL students in the form of films, speakers, concerts and more! For more information, please visit: http://involved.unl.edu/upc or follow UPC Nebraska on Facebook and Twitter.
More details at: http://go.unl.edu/jcr5