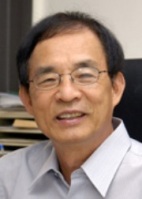 Wen-Hsiung Li, a professor of ecology and evolution at the University of Chicago, will deliver a Biotechnology/Life Sciences Seminar lecture at 4 p.m., today, in the Beadle Center, room E103.

The seminar series, organized by UNL's James Van Etten, features scientists from the Big Ten Conference who are also members of the National Academy of Sciences.

Li's lecture, "Epigenetic Factors in the Evolution of Gene Regulation," will examine chromatin and chromatin modifications. He will present a study on how chromatin structure can be stabilized in the midst of genetic and environmental change.

For more information on Li's research, go to http://go.unl.edu/ig2.

The lecture and a 3:30 p.m. reception are free and open to the public.
More details at: http://go.unl.edu/txw