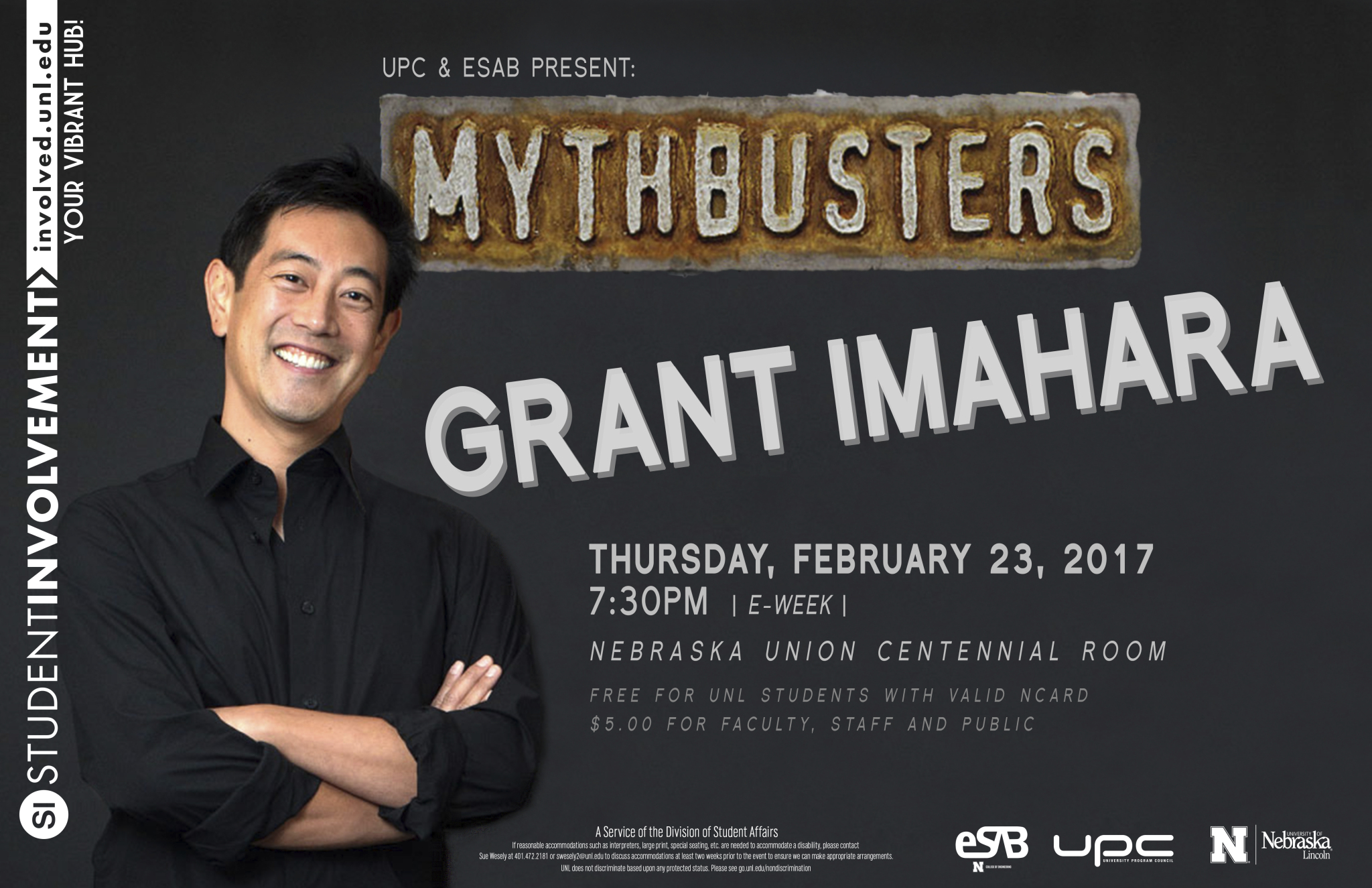 The University Program Council and the Engineering Student Advisory Board (eSAB) will host Grant Imahara from television's "MythBusters" on Feb. 23 at 7:30p.m. in the Union Centennial Room. This event is free for UNL students with a valid NCard and $5 for faculty, staff, and public.

Grant Imahara is an electrical engineer, roboticist, and television host. He is best known for his work on the television series "MythBusters", in which he often built the robots that were needed for the show and specialized in operating the various computers and electronics that were utilized to test myths. During the presentation, Imahara will speak on topics such as "MythBusters", special effects of Star Wars, and engineering entertainment.

Imahara graduated with a Bachelor of Science degree in electrical engineering from the University of Southern California. In his early career, he worked as an engineer for Lucasfilm's THX division and later moved to the company's visual effects division. There, he was involved in films such as "The Lost World: Jurassic Park", and "Star Wars: Episodes I-III". Especially recognized for his work in updating the aging R2-D2 robots for the "Star Wars: prequel trilogy, Imahara also worked closely with "MythBusters", where he made the robots for the show that specialized in operating the computers and electronics for the myths. Additionally, Imahara has appeared on "BattleBots", "Architects of Evil", "Star Trek", "Sharknado 3", "White Rabbit Project" and many more.

The University Program Council (UPC Nebraska) is a student organization that provides diverse, educational and entertaining programs to enhance the University community. UPC Nebraska acts as the executive body responsible for the implementation of programs and activities funded by student fees. For more than 75 years, UPC Nebraska has been providing entertainment for students in the form of films, speakers, concerts and more! For more information, please visit: http://involved.unl.edu/upc or follow UPC Nebraska on Facebook, Instagram, and Twitter.

The Engineering Student Advisory Board (eSAB) is a student government organization made up of undergraduate students, freshmen to seniors, representing every department in the College of Engineering. Members are representatives either from student organizations, or from the college at large. The mission of eSAB at the University of Nebraska–Lincoln is to support and connect all the students, faculty, and administration across the College of Engineering. eSAB's meetings are open to the general public and anyone in the college is welcome to come and have their voice heard. Drop in Tuesdays at 6 p.m. in SEC 318 to see what's going on in the College of Engineering! For more information go to http://engineering. unl.edu/esab-lincoln/ or follow us on our Instagram or Twitter @unlesab!