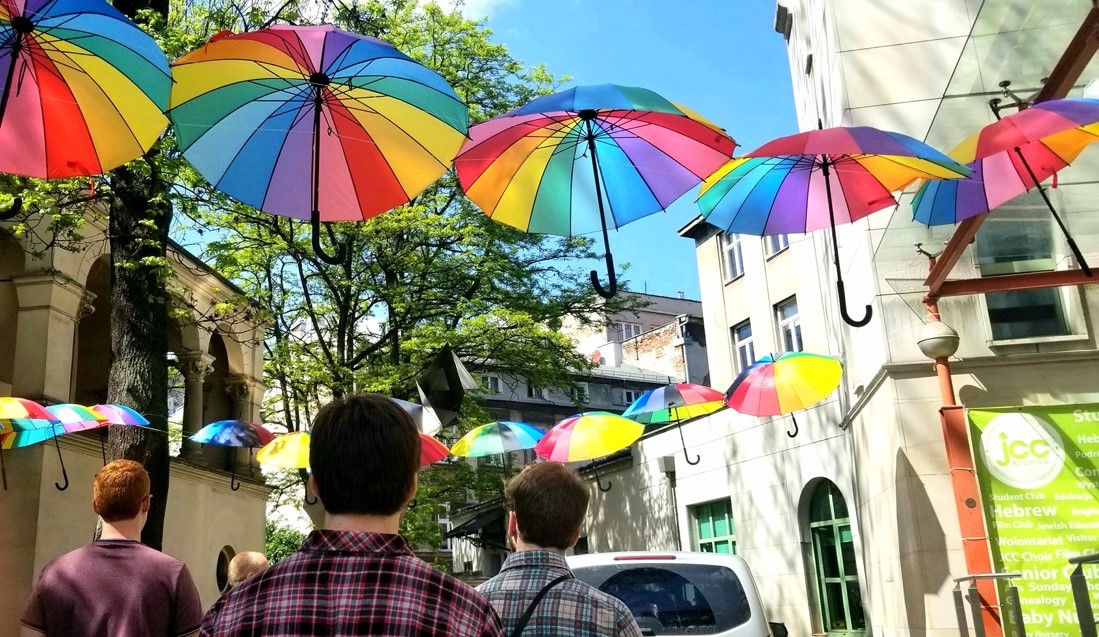 Breaking a university record for most recipients in an application cycle, 35 University of Nebraska-Lincoln undergraduates earned the Benjamin A. Gilman International Scholarship during the March 2022 cycle to support credit-bearing study abroad, internship abroad or virtual international opportunities.

The Gilman is a nationally competitive scholarship awarded twice a year by the U.S. Department of State's Bureau of Educational and Cultural Affairs and administered by the Institute of International Education. Students may apply several months in advance of their program, allowing them to finalize their education abroad plans with the reassurance of funding.

The March 2022 cycle awardees, announced earlier this month, join 19 Huskers who earned the Gilman scholarship in October 2021. Combined, the awards bring Nebraska's 2021-22 academic year total to a new record of 54 recipients. The previous record of Gilman scholars awarded in an academic year was 34 recipients in 2017-18.

"This is truly wonderful news," said Amy Goodburn, senior associate vice chancellor and dean of undergraduate education. "I appreciate the efforts of all our staff in the Global Experiences Office and the Office of National and International Fellowships for providing such outstanding support to our scholars."

Despite the ongoing pandemic, the Gilman program announced a higher selection number this cycle and is committed to offering students flexibility as study abroad plans are impacted. The prestigious scholarship provides funding for education abroad programs to undergraduate Pell Grant recipients who might not otherwise participate due to financial constraints. The Gilman Program aims to encourage students to study and intern in a diverse array of countries and to study languages — especially critical need languages.

Gilman Scholars receive up to $5,000 to apply toward program costs and may receive up to an additional $3,000 to study a critical language. In the March 2022 cycle, two Huskers received additional funding for the Critical Need Language Award: Rylan Korpi and Martin Little.

"Nationally, only one in four applicants is awarded the Gilman, so we are far outpacing that average with 54 of 75 Nebraska applicants earning the scholarship this academic year," said Kate Kunzman, global experiences coordinator for the College of Arts and Sciences and Nebraska's liaison to the Gilman Program. "In total, our students have been awarded $244,500 to study abroad via the Gilman program this year – another record for Nebraska."

During each application cycle, staff in the Global Experiences Office and Office of National and International Fellowships reach out to Pell Grant recipients to invite them to application workshops and work with applicants to review their essays before the deadline. The Global Experiences Office also continues to support students seeking to go abroad in alignment with the university's and Department of State's travel policies.

"These records are, of course, a testament to our amazing and talented students," added Kunzman. "But it would not have been possible without all the hard work and support Angela Luedke, global experiences coordinator, and Courtney Santos, director of the Office of National and International Fellowships, gave our students on their applications."

Recipients awarded during the March 2022 cycle must complete their programs this summer, during the fall 2022 semester, 2022-23 academic year or spring 2023 semester. Following is a list of the university's newest Gilman Scholars by hometown with their major and intended country of study.

Nebraska:
Bellevue:

Chelsea Hanway, anthropology, United Kingdom and Ireland
Crete:

Kaylee DonJuan Mendoza, international business, Spain
Lincoln:

Ruqyia Al-ghareeb, elementary education, New Zealand

Devan Buescher, management, China

Juan Cervantes, nutrition and health sciences, Zambia

Tina Duong, communication sciences and disorders, France

Angelique Fuentes, animal science, Ireland

Mar Hermosillo, theatre, United Kingdom

Deia Lasu, psychology, South Korea

Priscilla Lebesse, child, youth and family studies, France

Martin Little, international business, Denmark

Amber Magallon, psychology, Italy

Enrique Martinez, business administration, Japan

Eduardo Mora, management, United Kingdom

Zeta Nguyen, accounting, South Korea

Tucker Nichols, finance, Spain

Nasia Olson-Whitefeather, criminology & criminal justice, Zambia

Lay Wah, child, youth and family studies, New Zealand
Norfolk:

Sam Bates, fisheries and wildlife, Namibia
North Platte:

Katelyn Rossell, psychology, Ireland
Ogallala:

Paris Brooks, textiles, merchandising and fashion design, Germany
Omaha:

Lauren Ashley, secondary education, United Kingdom and Ireland

Ashley Blimling, business administration, Greece

Ella Gbetanou, ethnic studies, Morocco

Elijah Marburg, political science, Israel

Sophia Notto, textiles, merchandising and fashion design, Germany

Carla Perez-Villagomez, textiles, merchandising and fashion design, Italy

Jailaiyah Rouse, secondary education, Spain

Michelle Saqui, marketing, Italy
Papillion:

Claire Gillespie, horticulture, Zambia
Raymond:

John Karpov, business administration, Rwanda

Elsewhere in the U.S.:
Leavenworth, Kansas:

Collin Shearman, interior design, United Kingdom
Eagan, Minnesota:

Meyri Ibrahim, political science, Spain
Salisbury, Missouri:

Emmett Gutz, marketing, Iceland
Maple Valley, Washington:

Rylan Korpi, global studies, Brazil

The next cycle of Gilman scholarship applications open in August and close October 6, 2022. Interested students should contact the Global Experiences Office at educationabroad@unl.edu or visit the Gilman Program website for more details.