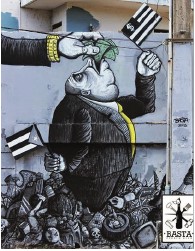 During the last 15 years the colony of Puerto Rico has gone through a massive economic crisis ($74 billion debt to Wall Street.), the cruelest austerity measures, the biggest emigration of its peoples, a one million people insurgency demanding the resignation of the governor and two unprecedented category five Hurricanes. And yet... poetry in Puerto Rico has never been better than in those 15 years.
There is a poetic boom in that same island that has been hit by the worst iteration of disaster capitalism. Why? Why is poetry flourishing amidst catastrophe? In this class we will attempt to answer this and other questions as we read and translate contemporary Puerto Rican poets.

Every week we will discuss and translate 3 to 4 poems from Spanish to English. Most of these poems have never been translated before, thus this will be an opportunity to do very original work all the while creating awareness about the situation in Puerto Rico for the English-speaking public. Translating poetry requires us to delve into the historical, cultural, and aesthetic contexts from which the text emerges, rather than being a mere reflection of the translator's linguistic competence. We will learn how translation is both an art and a tool for freedom and equality.

Students interested in translation, creative writing, cultural studies, and Latin American culture inside and outside the U.S.A. will find this course particularly useful.