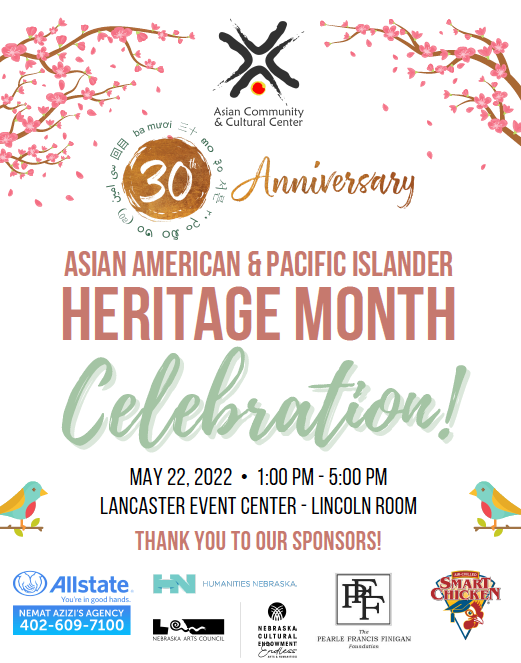 The Asian Culture Community Center (ACCC) is Celebrating its 30th Anniversary and is looking for five volunteers for its 30th-anniversary celebration on May 22 from 1 to 5 p.m.

Tasks include: setting up and decorating the room, photography, and loading and unloading events.
A detailed work division will be sent out one week before the event.

More about ACCC 30th Anniversary & AAPI Heritage Month Celebration:

The ACCC 30th Anniversary and Asian American & Pacific Islander Heritage Month Celebration will be an indoor and in-person event, which will take place at the Lancaster Event Center, Lincoln Room on May 22nd, 2022, from 1-5 PM. The event will include a video exhibition of the achievements of the Asian Community & Cultural Center over the past 30 years, the Untold Migrant Stories exhibition from ACCC youth. We plan to have the videos exhibition interspersed between the art performances. Meanwhile, we will have 10 ethnic cultural exhibitions, fun activities, art performances, traditional games, live music, Asian cuisine, and health screenings. The event program will be sent out two weeks before the event. The event will last 4 hours and is free for all.

This event will show the residents in Lincoln and the surrounding area the services and assistance that the Asian Community & Cultural Center has provided for immigrants and refugees over the past 30 years. The ACCC provides the women's program, health/mental health programs, senior's program, family resources program, youth program, and cultural program. We want to take this opportunity to provide more service guidelines and information for new immigrants and refugees who have just come to Lincoln Nebraska. At the same time, we hope that through such a cultural exchange platform, the Lincoln residents will have an opportunity to learn how to accept and respect people with different cultural backgrounds and customs.

Our performing groups will perform Lion Dance, Karen traditional dance, Indian classical dance, Japanese folk dance, Chinese martial art, Vietnamese fashion show, etc. Some of the groups have been loved by the audience at our previous events. Some of them will be shown to the audience for the first time. The audience will experience cultural shock through the different art forms.