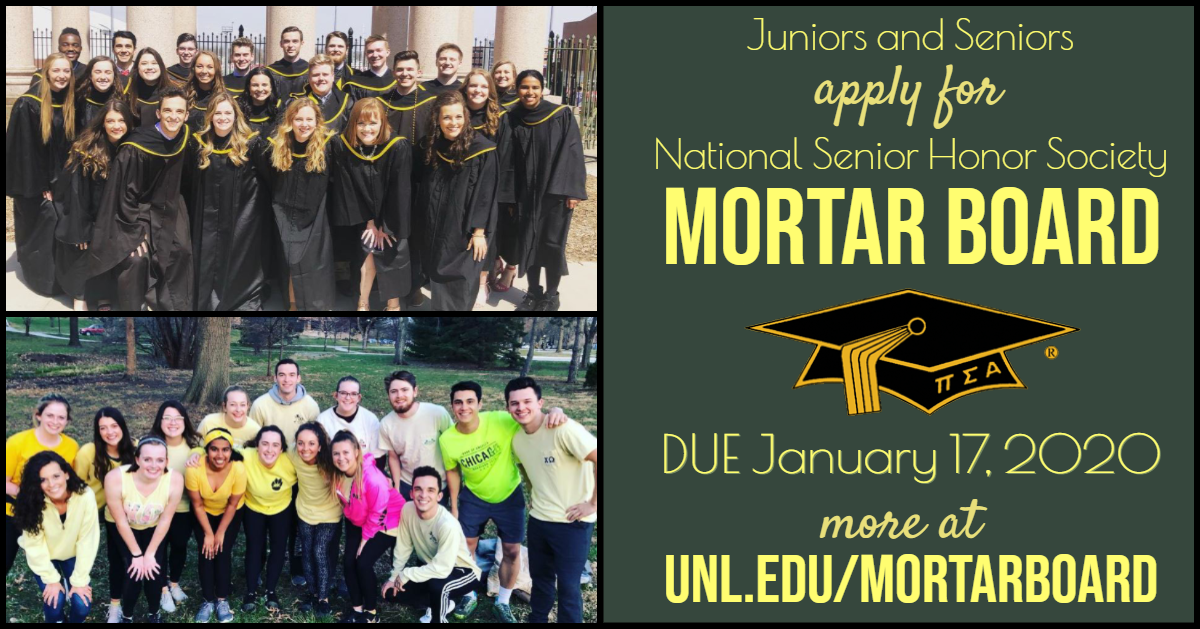 Juniors and Seniors apply for UNL's the Black Masque Chapter of Mortar Board by January 17, 2020.

Mortar Board honor society is an association of individuals selected for distinguished ability and achievement in scholarship, leadership and service, which recognizing the advantages of a national union of senior honor societies, has formed a national honor society, whose purpose shall be to facilitate cooperation among those societies, to contribute to the self-awareness of its members, to promote equal opportunities among all peoples, to emphasize the advancement of the status of women, to support the ideals of the college or university, to advance a spirit of scholarship, to recognize and encourage leadership, to provide service, and to establish the opportunity for a meaningful exchange of ideas as individuals and as a group. There are 231 chartered collegiate chapters of Mortar Board that have initiated over 200,000 members since the organization's founding in 1918.

At the University of Nebraska - Lincoln the Black Masque Chapter of Mortar Board strives to exemplify the organization's goal of advancing scholarship, leadership, and service. We honor individuals who have made a difference in students' lives through our People Who Inspire banquet, recognize outstanding educators with our Professor of the Month award, co-sponsor the Jack-O-Lantern Jog to support the Team Jack Foundation, host exemplary Nebraska alumni during Master's Week, participate in Mortar Board's national Reading is Leading service project, and more. While it is an honor to be selected for membership in Mortar Board, it is our continued commitment to serve that differentiates Mortar Board from other honorary societies.