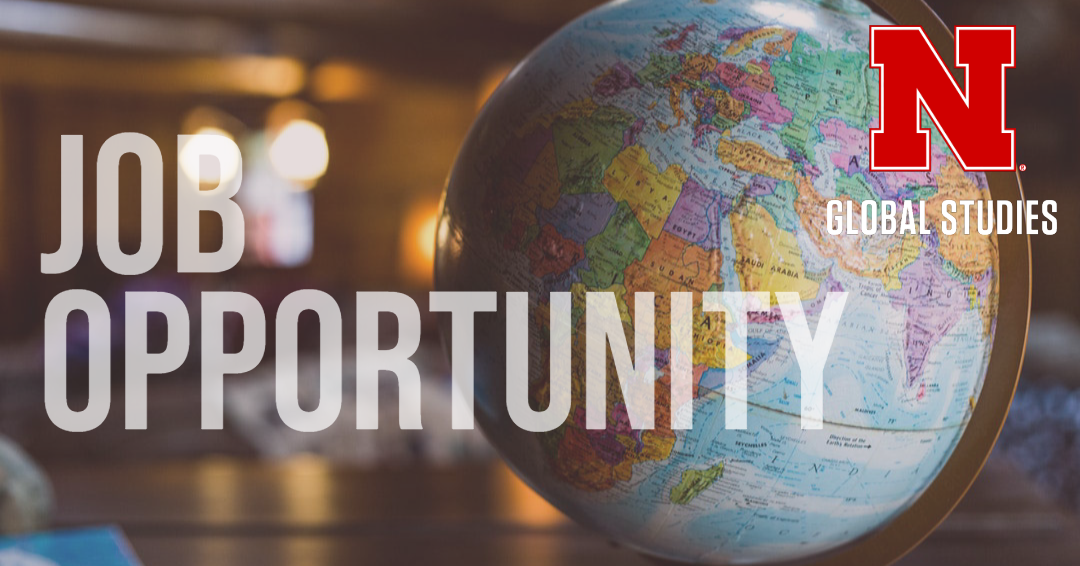 Does the idea of working to help tell the University's global story excite you? Are you looking to build your communications portfolio or gain hands-on experience in the real world?

Then you're invited to apply for the Global Communications Internship, hosted in UNL's Office of Global Strategies.

About the Office
With students, staff & faculty from more than 115 countries, study abroad programs in 45 nations, and research efforts on all continents—Nebraska engages the world. The Office of Global Strategies (OGS) is the university-level office that coordinates and supports global activities throughout campus and abroad, including international and transnational research, teaching, and outreach. OGS is also instrumental in mapping global engagement efforts resulting in the implementation of internationalization strategies that represent the interests of our faculty, students, and staff.

About the Internship
This paid communications internship will help support the Office of Global Strategies' communications efforts on a variety of levels, including digital, print, videography and photography, social media and more. The intern will work closely with Office staff and the Global Outreach Officer in executing communications strategy.

A strong candidate for this internship has experience in:
> Copywriting and/or editing for news articles, press releases, reports, social media, and emails
> Developing and executing a social media strategy for Facebook, Instagram, Twitter, and LinkedIn
> Digital and graphic design work, including digital signage, brochures, reports, social media graphics, etc.
> Video editing, filming and event photography a strong plus
> Logistics and administration support for events and programs

Applicants should have working knowledge of the Microsoft Office Suite and Adobe Illustrator, InDesign, Premiere, and Photoshop. Excellent written communication skills and strong organizational skills are required. Strong candidates also have the ability to balance multiple projects simultaneously and work with professionals at various leadership levels. Self-starters and students who appreciate a dynamic, fast-paced work environment are encouraged to apply.

Candidates with a particular interest in advertising and public relations, graphic design, journalism, marketing, digital and social communications strategy, international affairs, diplomacy, higher education and international business are encouraged to apply. This internship is open to students of all academic backgrounds. Preference will be given to students with sophomore standing or above.

If hired, this intern will work between 5-12 hours per week during the spring semester on a flexible schedule. Hours may be adjusted with prior notice to assist with a specific initiative. This internship may also have the option to be extended into the summer.

TO APPLY
Applicants should include their portfolio, cover letter and a resume.

Applications can be submitted on Handshake at https://go.unl.edu/globalcomms by January 20, 2020 at 11:55 PM CST.


Learn more about the Office and global engagement at Nebraska at https://globalnebraska.unl.edu, or follow @GlobalNebraska for updates. For questions about this internship, please contact globalstrategies@unl.edu.