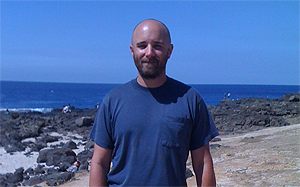 Ezra Zeitler, assistant professor at the University of Wisconsin-Eau Claire, will present the 2014 Lavin Memorial Seminar, "Benefits (and Blunders) of Social Media Cartography" at 2 p.m., March 7 in Hardin Hall 228. The event is free and open to the public.

Zeitler's presentation will examine how computing technologies have revolutionized the way spatial data are collected, analyzed, visualized and consumed. The increasing popularity of short, attention-grabbing lists and news stories on social networks and websites have changed the way information is obtained, particularly among college students. These changes have fostered a rise in the use of maps used to attract and inform readers.

While this is an excellent way to promote spatial thinking outside of the classroom, a skills gap in the cartographic work of contributors is evident; some maps are masterfully produced, but others are methodologically faulty and aesthetically displeasing. How well does a college student unfamiliar with cartographic methods and conventions interpret patterns in maps and detect incongruities in them? What role, if any, does the theme or aesthetics play in their interest in a map? How does increased exposure to maps on social media affect their ability to interpret them? Results of a survey administered in introductory geography courses at the University of Wisconsin-Eau Claire reveal insightful answers to these questions.

Zeitler teaches a variety of courses in human geography, regional geography, geographic techniques and field methods. His research interests include cultural geography, geographic education and geovisualization. His work has been published in the Journal of Heritage Tourism, Historical Geography, the Journal of Maps and the Journal of Geography.

The Lavin Memorial Seminar is an annual event that pays tribute to Stephen J. Lavin, who was a cornerstone of the UNL geography program for several decades. Lavin passed away in May 2011. Zeitler is one of his former students.