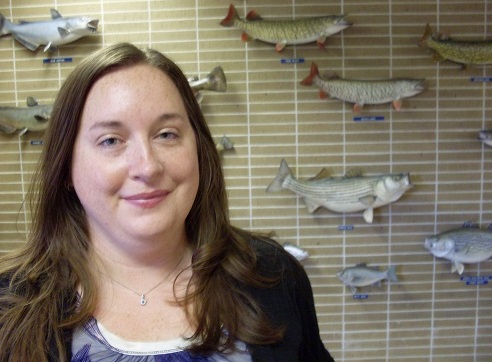 In the six months since joining the School of Natural Resources as the coordinator of the Nebraska Invasive Species Program, Allison Zach has faced her fair share of deadlines.

"When I was hired, I immediately had grant reports due for the program," Zach said. "I completed them all by December 31, 2013."

During those first few months, Zach also had grant funding to use before year's end. She decided to prioritize the program's marketing plan and used the funds to reimagine what that would – and should – look like.

"I built a new program website, created new program brochures, designed a new program logo, and developed and purchased promotional items that will be provided to the public to promote the program," she said.

Zach's zeal for her work seems to stem from not only a passion for the work itself, but also for SNR, UNL and the greater Lincoln community. After all, not too long ago, Zach – a native Lincolnite – was a fisheries and wildlife major who had many classes in buildings throughout East Campus, including Hardin Hall.

"Hardin Hall is a wonderful learning facility for students and research location for staff," she said. "Having a centralized location for fisheries and wildlife professionals is wonderful for students and staff."

Following her graduation from UNL in 2004, Zach began a graduate program at Minnesota State University. While there, she worked on a project that measured hunter satisfaction and landowner tolerance of turkey hunters in Minnesota.

"I was housed and conducted research on turkey and deer hunting seasons at the Department of Natural Resources Farmland Research Unit in Madelia, Minnesota during my studies," she said. "My research provided the Department of Natural Resources with results they used to determine if the number turkey hunting permits issued in Minnesota could be increased."

After earning her master's degree, Zach returned to Lincoln to work for the Air Division of the Department of Environmental Quality for two years. She then moved to the Department of Roads where she provided training and outreach on environmental clearance requirements for transportation projects to the public and consultants.

When she was offered her current job, Zach said she was looking forward to reconnecting with faculty whom she had known during her college years.

"I was very excited to work with fisheries and wildlife professionals and researchers to conduct invasive species research, outreach and management," she said. "While attending UNL, I had several classes with existing wildlife faculty and am excited to work with them."

Some of Zach's objectives for the program in 2014 include the creation of invasive species teaching tools for Nebraska youth educators, zebra and quagga mussel sampling, boater and recreationalist invasive species surveys, development of invasive species outreach materials for recreationalists, and development and implementation of invasive species identification workshops for resource agency professionals and volunteer naturalists.

— Mekita Rivas, Natural Resources

Do you know a stellar SNR staff member who should be spotlighted in an issue of Inside SNR? Send your suggestion to mrivas@unl.edu.
More details at: http://neinvasives.com/