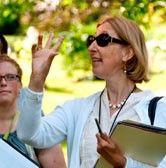 Melissa Dabakis, American and Modern European Art History professor at Kenyon College, will speak on contemporary environmental art and site-specific sculpture at 5:30 p.m., Sept. 5 at the Great Plains Art Museum (12th and Q streets). The talk is free and open to the public. The museum is open from 5-7 p.m. on First Fridays.

Since the 1960s, there has been a surge of interest in the environment among contemporary artists. Labeled by art critics and curators as the "geographical turn in contemporary art," this new artistic practice is a collaborative and interdisciplinary endeavor. This talk will focus on Ecoventions, the blending of ecology and invention by artists who employ creative strategies to physically transform a local ecology.

This program is funded in part by Humanities Nebraska and the Nebraska Cultural Endowment.