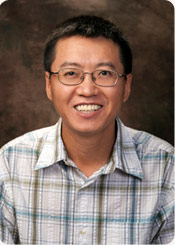 "Genomic Approaches to the Study of Plant Cell Wall Evolution from Algae to Angiosperms," will be presented by Yanbin Yin of Northern Illinois University at 4 p.m., March 11 in in E103 Beadle Center. The seminar is free and open to the public.

Yin will talk about his lab's research on plant Carbohydrate-Active Enzymes (CAZymes) that are involved in plant cell walls synthesis. He will introduce the integrative approaches including genomics, transcriptomes and bioinformatics that they have been using for this reseach topic. Their long-term goal is to understand how plant cell walls have evolved.

The Beadle Center is located at 1901 Vine Street. The complete schedule of seminars may be found at http://biotech.unl.edu/.

More details at: http://go.unl.edu/u79i