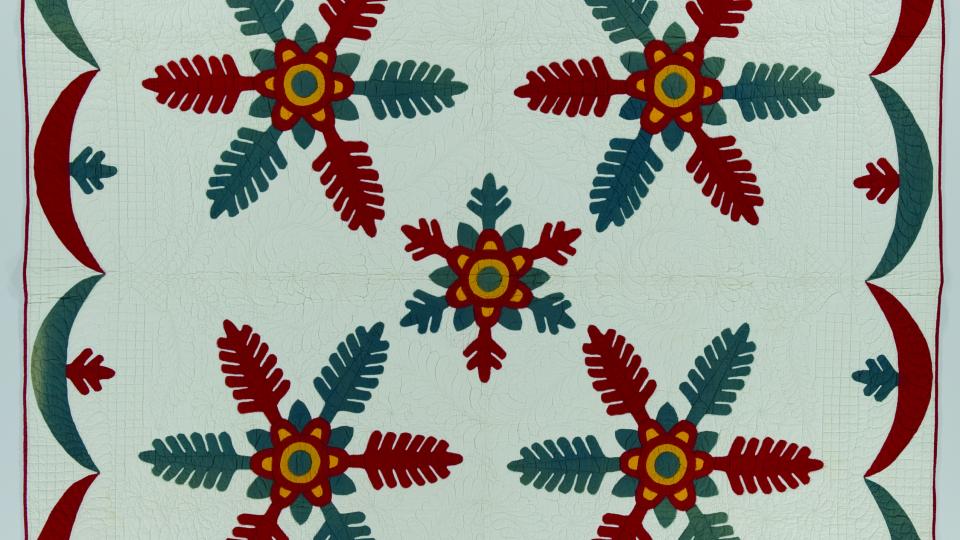 A new exhibition opening Nov. 23 at the Robert Hillestad Textiles Gallery will explore red and green quilts just in time for the holiday season. "Red, White and Green All Over: Traditions and Variations of 19th-Century Red and Green Applique" features the elegant genre of red and green applique quilts that American quiltmakers made in large numbers between 1840 and 1880.

"The applique technique frees the maker to create overall designs using curved fabric pieces, which are perfect for naturalistic subjects like plants and flowers, people and animals," said Holly Zemke, curator of the exhibition. "It is my hope that visitors will be as taken by the aesthetic beauty of these red and green applique quilts as I am, and will relate to the German, English and Scots-Irish people who made them."

Beyond their stunning visual qualities, red and green applique quilts will intrigue visitors with their mathematical design symmetry and the ancient science that enabled Turkey red-dyed cotton fabric to retain its color for more than 150 years.

Exhibition activities include a gallery talk by curator and graduate student Zemke at 12:30 p.m. Nov. 23, and a free public lecture, "Part English, Part German, Fully American: Influences on Red and Green Applique Quilts," by quilt scholar, author and professor Virginia Gunn at 2 p.m. Dec. 6. A special event from 6 to 7:30 p.m. Dec. 3 will offer a kid-friendly gallery tour, and red and green activities. This family-focused event will highlight how traditions were -- and still can be -- passed down through generations, shared across cultures and borrowed from one craft for use in another.

Zemke is completing work toward a Master of Arts degree in textile history with emphasis in quilt studies, in the Department of Textiles, Merchandising and Fashion Design. She chose these historical quilts from the permanent collections of the International Quilt Study Center and Museum. These red and green appliqued "best quilts" represent American middle-class women's artistic aspirations.

This program was made possible with partial funding by Humanities Nebraska, a statewide, nonprofit organization inspiring and enriching personal and public life by offering opportunities to thoughtfully engage with history and culture, and with support from the Friends of the Robert Hillestad Textiles Gallery.

The gallery is part of the Department of Textiles, Merchandising and Fashion Design in the College of Education and Human Sciences at UNL. The gallery is on the second floor of the Home Economics Building on East Campus, on 35th Street north of the East Campus Loop. Hours are 8:30 a.m. to 4 p.m. Monday through Friday and by appointment. Admission is free. Guest parking is available near the building and metered stalls are located in the East Union lot. For more information, call 402-472-2911 or visit http://textilegallery.unl.edu.
More details at: http://go.unl.edu/dic2