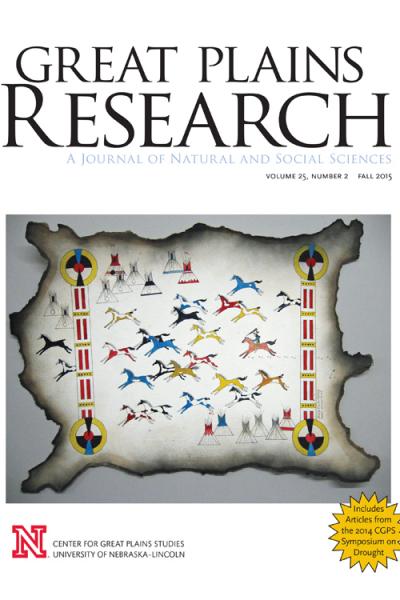 According to projected climate changes, Nebraska will see an increase in extreme events such as drought, heat waves and heavy precipitation in the future. Understanding how to address these problems now is vital not only for the future of Nebraska, but for the future of the Great Plains.

Based on the 2014 report prepared for the State of Nebraska's Climate Assessment and Response Committee, "Understanding and Assessing Future Climate Change for Nebraska and the Great Plains" by Robert Oglesby, Deborah Bathke, Donald Wilhite and Clinton Rowe appears in the latest issue of Great Plains Research (Volume 25.2). The essay reviews basic climate science and how climate models are used, and then discusses the global perspective on future climate change. The authors also discuss Nebraska's past climate and how projected future climate change might impact the state's resources and people.

"The Great Plains in general and Nebraska in particular face significant economic, social and environmental risks due to projected climate change during the remainder of this century," the authors write.

Other articles in the issue also focus on drought and climate change.

• "A Historical Perspective on Nebraska's Variable and Changing Climate" by Martha D. Shulski, William Baule, Crystal Stiles and Natalie Umphlett examines changes in temperature and precipitation throughout Nebraska's recorded history to place future climate change projections for the state in context.

• Studying how soil temperature and soil water influences the onset and seasonality of plant growth in the semiarid ecosystem of the western Great Plains is the focus of "Soil Water and Temperature Explain Canopy Phenology and Onset of Spring in a Semiarid Steppe" by Lynn M. Moore, William K. Lauenroth, David M. Bell and Daniel R. Schlaepfer. Their results are important in understanding responses of semiarid regions to climate change.

• In "An Analytic Approach to Climate Dynamics and Fire Frequency in the Great Plains," Richard P. Guyette, Michael C. Stambaugh, Joseph Marschall and Erin Abadir studied up to three centuries of fire scar data and model results to better understand how past, present and future changes in Great Plains climate will affect fire regimes.

• Kevin Gallo and Eric Wood examined Native American winter count recordings of drought events in the Great Plains from 1777 to 1869 and found that they correlated with other contemporary observations and documentation, proving winter counts can be used as an additional source for historic climate analyses. "Historical Drought Events of the Great Plains Recorded by Native Americans" documents their findings.

• Christina Dando compared visual images of the Great Plains from 1890 to 1930 in booster brochures with Plains dwellers' photograph albums to show how the booster images influenced how new settlers saw and experienced the region in "Virtually Constructing a Great Plains: Booster Impacts on Plains Viewing." Booster brochures portrayed the Plains as a "Land of Bread and Butter" and avoided the reality of cycles of drought, fluctuating agricultural prices and endless hard work.

A copy of Great Plains Research is available via Project MUSE and in print from the University of Nebraska Press as an individual copy or as a subscription. Visit http://www.unl.edu/plains for more information.