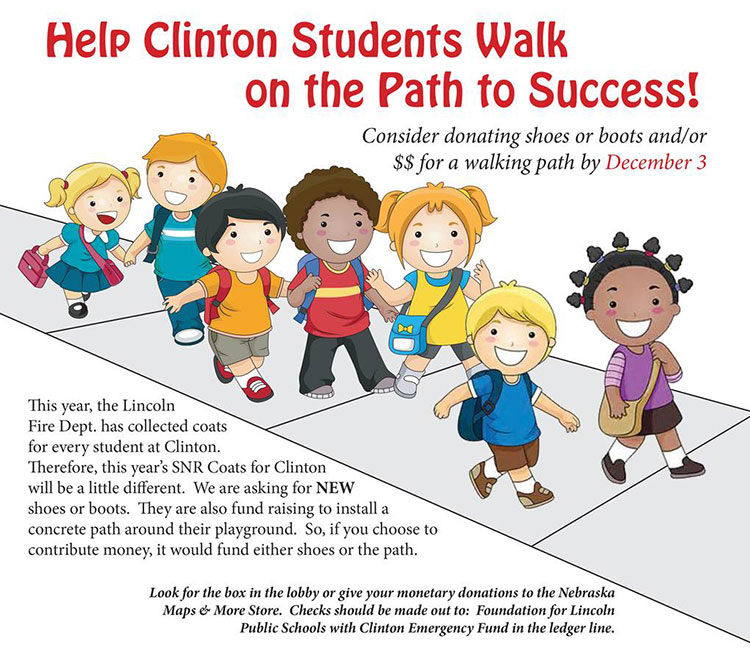 Now in its eighth year, SNR's annual "Coats for Clinton" drive continues to provide coats and winter gear to the students of Clinton Elementary, located at 1520 N. 29th St. – just a few blocks away from SNR's home building, Hardin Hall.

However, the 2015 drive is a little different.

This year, the Lincoln Firefighters Association has helped students from Clinton Elementary stay warm this winter by providing all 550 students with new coats.

Therefore, in lieu of coats, SNR is asking for new boots and shoes to be donated to Clinton students. The elementary school is also fundraising to install a concrete path around their playground, so monetary donations will go toward shoes or the path.

No matter the donation, it will help Clinton students walk on the path to success.

Donations will be accepted until Dec. 3. Look for the box in the first floor lobby of Hardin Hall, located on UNL's East Campus. Monetary donations can be dropped off at the Nebraska Maps and More Store (also located on the first floor). Checks should be made out to: Foundation for Lincoln Public Schools with "Clinton Emergency Fund" in the ledger line.